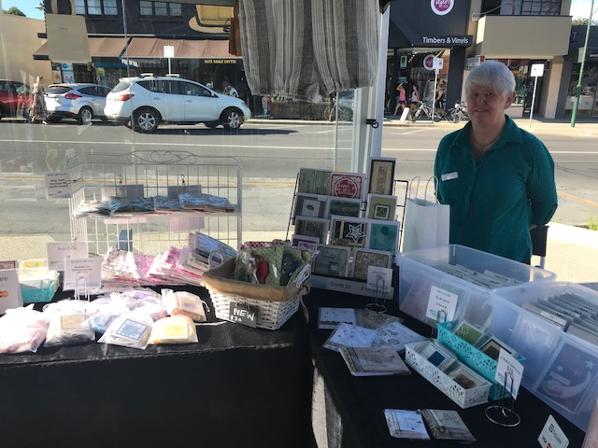 bellburn crafts stall is the brainchild of Shelagh Black. Shelagh, a local Blackburn resident, sells hand made cards, items for baby that she has personally made and when the weather turns cooler, her knitted clothes. She has made all the items she sells and has had a Blackburn market stall for 8 months. Shelagh started making things for her granddaughter (now 14 months old), including bibs, nappy holders, change mats, baby wear etc. She made many more than her granddaughter could use so had the great idea that others could benefit from her skills rather than just her granddaughter, hence the craft stall. Her granddaughter continues to be the "testing ground" for her new products so expect the range to increase as granddaughter gets older. As she makes everything herself, if you like something but not the colour or it is the wrong size, well she will make it for you. How's that for service. Shelagh has a stall at a number of markets including two other Rotary ones, Hawthorn Makers Market (1st Sunday), and Waverley Market (2nd Sunday). Good news is that she takes Visa & Mastercard.
PREVIOUS TRADERS OF THE MONTH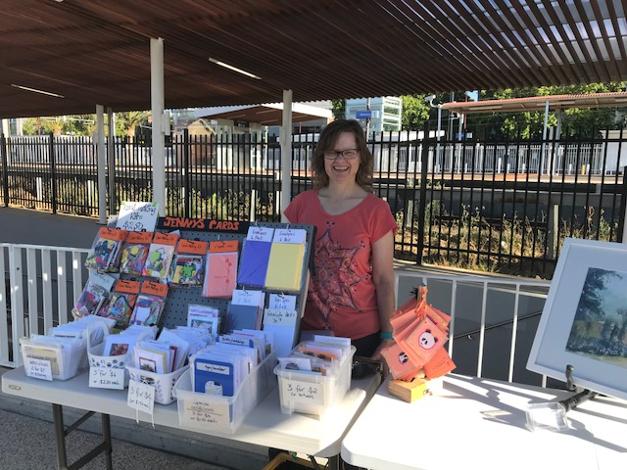 Jenny's Cards stall has been a regular feature of our Saturday Blackburn Market for over 9 years. Jenny, a Box Hill resident, sells her own original hand painted cards in a range of sizes and her hand painted water colour framed paintings. The cards are 2 for $7 and 3 for $6 depending on the size and the framed paintings range from $18 to $70. Jenny also sells papercraft cards which uses lots of recycled materials like cloth offcuts and chocolate wrappers and sells kits for $2.50 containing some cards and loads of cutouts so children can make their own cards.
She started painting 12 years ago as a therapy because of her depression without showing any prior artistic skill and soon showed a great aptitude for water colours. She has been taking lessons until recently (as you can see from her skills, she should be giving lessons!). Jenny only attends one other market a month, the East Ringwood Community market on the 1st Saturday of the month. She told me that last year she sold 1,200 cards and 59 paintings. We would suggest you look her up next time you attend the Blackburn Market. Her cards and paintings are seriously good and very well priced.