Youth Service
Our programs have been developed and chosen to provide enriching opportunities for young people in the community, from preschoolers to young adults.
In 2017/18 we have supported
12 students to participate in the Primary Schools Speech Contest (PSSC) for yr 5&6 students
1 student in the 3 day Rotary Youth Programme of Enrichment (RYPEN) for 14-17yr olds
12 students in our club's Youth Achievement Awards (YAA)
2 students for the National Youth Science Forum (NYSF) for yr 11 students
2 students for the ConocoPhillips Science Experience, a 2/3 day programme for yr 9 students
6 students for the club's Youth Citizenship Awards
4 students for the Model United Nations Assembly (MUNA) a weekend of debating for yr 11 students
We have partnered with local primary and secondary schools, the Whitehorse Council, Science Institutes and environment groups. Our chosen students have participated in the following (see photos and details below)
Ford Davis Endeavour Awards
MUNA- Model United Nations Assembly. Designed to help Year 11 students learn more about the UN
NYSF – National Youth Science Forum for Year 11 students. This program helps students who aim for career in Science.
RYPEN – Rotary Youth Program of Enrichment - for Year 9-11. Designed to develop and enrich potential and success
The Science Experience for Year 9 and 10 students. To encourage interest in science /technology
RYLA – Rotary Youth Leadership Award – for 18-30 years old. An intensive leadership training course
Year 10 Four Way Test – Public Speaking Contest. To promote public speaking skills, organizing and presentation
PSSC- Primary Schools Speech Contest for years 5-6 usually. To develop speaking and presentation skills in 10-12 yr olds
YAA – Primary Schools Youth Achievement Awards. Acknowledging Year 6 students who are local 'unsung heroes'.
Breakfast Club at Forest Hill College
YCA - A Citizenship award we give to secondary school students who have been inspiring in their support to the community
Forest Hill College HARPER GALILEO AWARD 2017
Jonathon was the proud winner of this year's award and was presented with his scholarship and certificate on Friday 8th December at the school assembly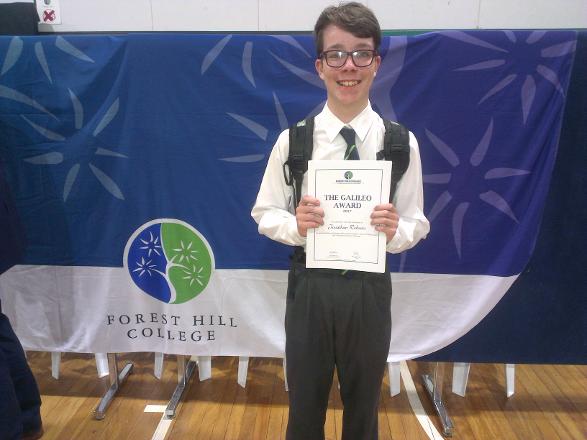 Gary Davis presented a cheque to Principal David Rogers at the school Assembly on behalf of the Davis brothers, Roger, Peter & Gary. This was to fund the Ford Davis scholarships to James and Zoe who were chosen by the school. Ford Davis was the founder of the Rotary Club of Forest Hill.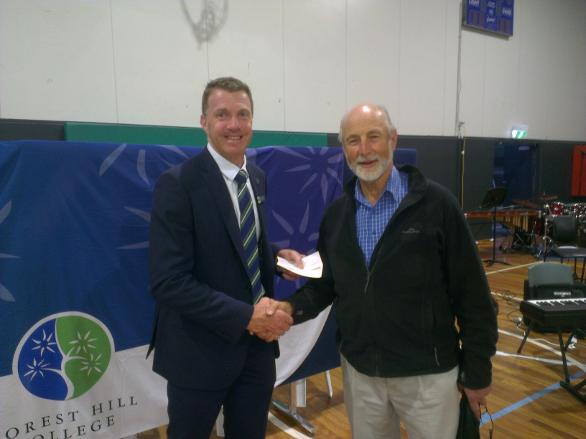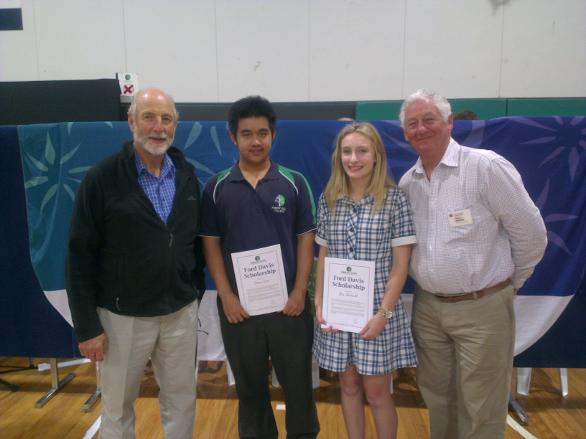 YAA Youth Achievement Awards 2017
We had a record number of twelve primary schools taking part this year in our most successful year yet!!
Once again Glenys Grant and Ray Smith were the organisers of this annual event. Our club initiated this idea in the District as there was no recognition given to primary school attendees but many in secondary school. We have now handed out 324 awards since inception. These students are chosen by the school for their hard work, enthusiasm in helping others and their overall contribution to school life.
Thanushi Peiris, a year 12 student and school captain spoke to the students and her message was clear. Talent is not what carries you forward at school, in sport, and later in life but hard work and enthusiasm. Thanushi has taken part in many Rotary programmes on her way to becoming Whitehorse Young Person of the Year and Deakin Young Person of the Year.
The awardees were Arabella (Livingstone), Simran (Burwood Heights), Karina (Orchard Grove), Ella (Whitehorse), Heydon (Rangeview), Jessica (Vermont), Alice (Mt Pleasant Road), Joshua (Blackburn Lake), Mary (Weeden Heights), Mason (Vermont Special School), Grace (St Timothy's), and Lucy (Parkmore). Each was given a framed citation from the Rotary Club of Forest Hill with the words their school wrote about that student plus a $50 voucher.
Our District governor Malcolm Chiverton and Cr Denise Massoud handed out the awards watched over by club President Bill Marsh, the parents of the students, their siblings and other family members. Each of the citations were read out by a different club member or partner and greeted with very warm applause.
There were plenty of photo opportunities both during and after this friendly and fun night.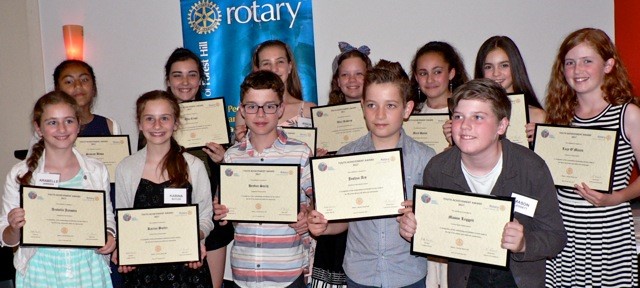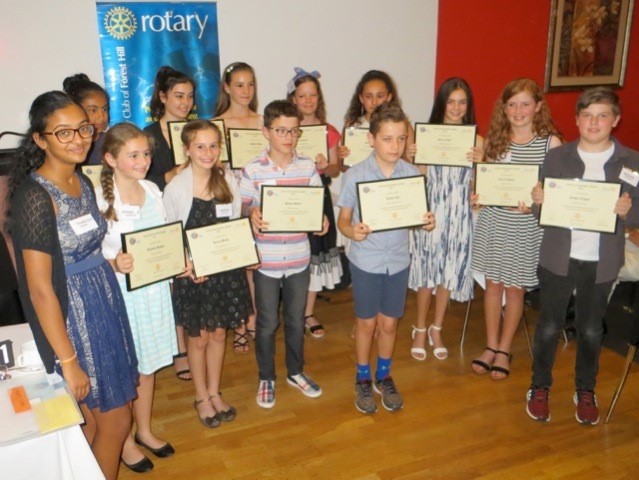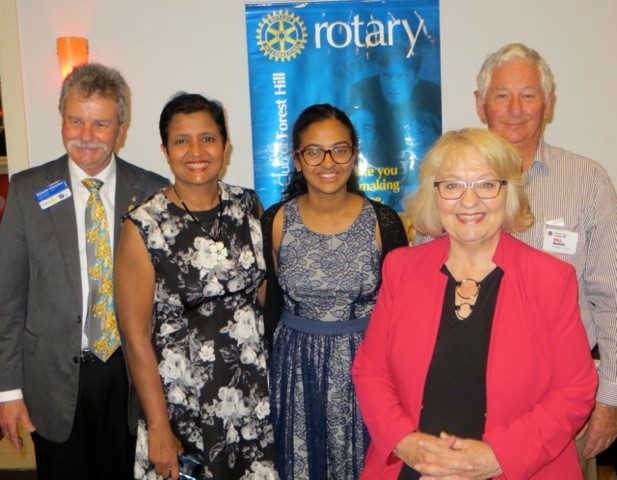 Ford Davis Endeavour Awards (2017)
Each year, three students from Box Hill High School receive an award to help and encourage them to further their education. They each receive $1,000 at the start of yr 11 and another $1,000 at the start of yr 12.
This year the awardees were Ashley Beh, Anita Nguyen & Rock Wilkins. Since 2010-11, 21 students have received this award. It is financially supported through the Gysi-Davis Trust in fond memory of Ford Davis, a foundation member of our club paid for by his three son's who attended Box Hill High School. Gary Davis was present at out club meeting on the 27th March to speak to the students and hand out the awards. Gary described the awards as "the red hot go award" encouraging them to make the most of their opportunities. Each student then spoke on how the money would be used.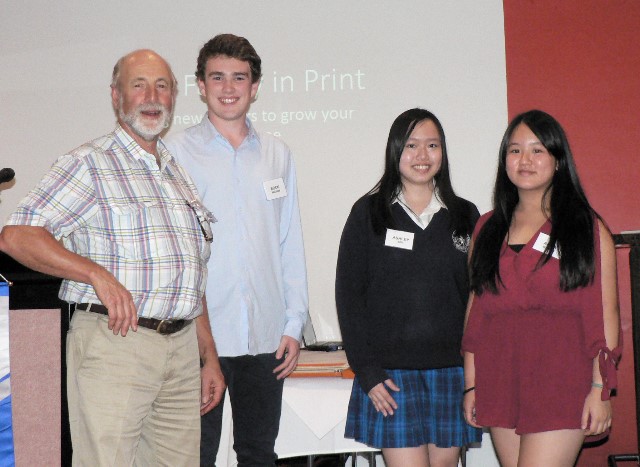 Breakfast Club every Tuesday at Forest Hill College prepared by the Rotary Club of Forest Hill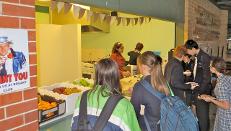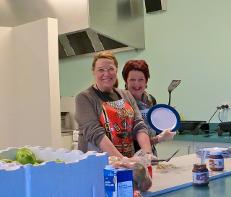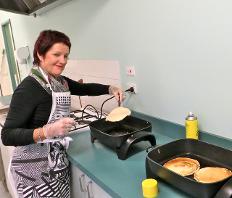 Glenys, Robbie, Ben, and Sonali dishing up a healthy breakfast for students at Forest Hill College.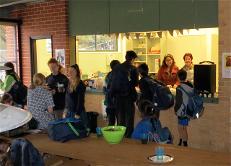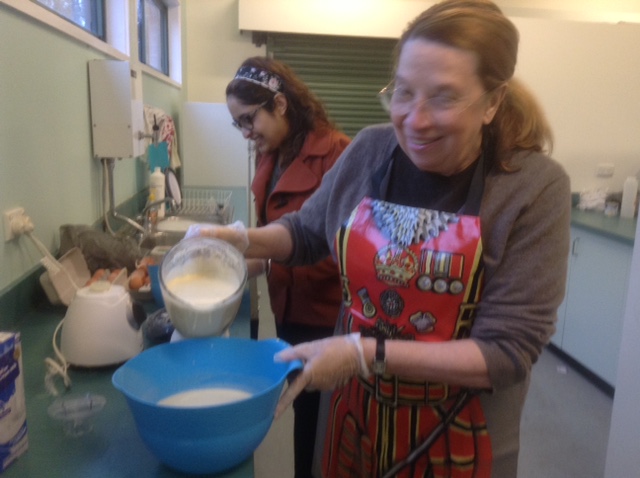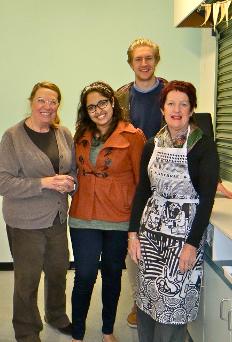 MUNA 2017

Primary School Speech Contest 2017

Youth Citizenship Awards 2017

ConocoPhillips 2017/18

National Youth Science Forum 2017/18

Opening of the "Great Wall" Blackburn Lake Sanctuary 2015

Larry the Lorikeet Book Launch 2014
Primary School Speech Contest 2017
Mount Pleasant Primary School won the fifth Speech Contest our Rotary Club has organised and once again Toastmasters (big thankyou Deborah Roffey) provided the judges and adjudication system. This year, Whitehorse Primary School hosted us with twelve students from six local schools spoke on a variety of topics for 3 minutes. The children amazed the audience with their poise, confidence, and preparation - many speaking without notes.
Andrew was the winner with Caely the runner up both from Mount Pleasant, and Holly from Burwood Heights Primary 3rd. Topics included • The future is exciting • A person in history that I like • A person I admire • Cruelty to broccoli & • My most embarrassing experience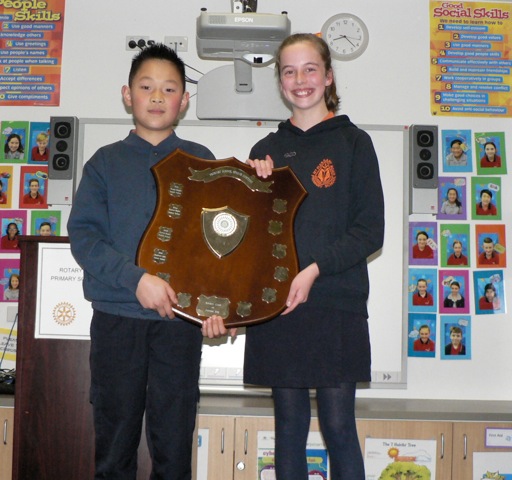 Model United Nations Assembly (MUNA) at Parliament House 2017 with the Forest Hill College team representing Spain, and the Box Hill High team representing Mexico. Forest Hill Rotary Club sponsored both teams with the Forest Hill College team winning the prestigious District Governor's award.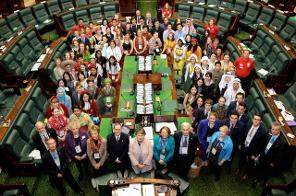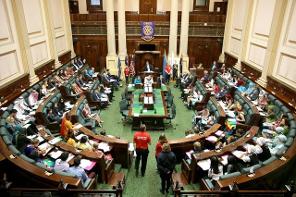 NEWS REPORT 7th/8th May
MUNA takes over Parliament House for a weekend of debating "United Nations" style.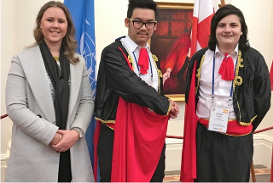 Jacob & Tarit with teacher Emily from Forest Hill College representing Spain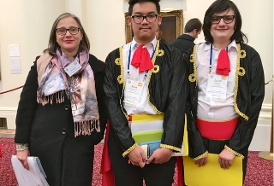 Jacob & Tarit with teacher Alice from Forest Hill College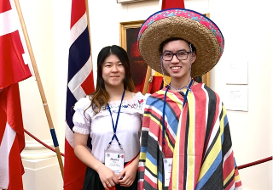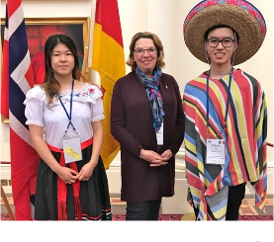 Hayley and Edwin from Box Hill High represented Mexico are with the Rotary Club of Forest Hill's Youth director Glenys Grant who organised our teams for this popular weekend debating project.
WE HAVE GIVEN OUT OVER 300 ROTARY YOUTH ACHIEVEMENT AWARDS TO OUR LOCAL SCHOOL CHILDREN!
This year the Rotary Club of Forest Hill presented its 326 award since inauguration to deserving District Youth Achievers, or 'unsung heroes'.
Each year since 1978 the Rotary Club of Forest Hill has presented awards to one student in Year six at each Primary School located in the south east corner of the City of Whitehorse. This year twelve awards were given out. The Youth Achievement Award is given to a student who is unique in that they have not so much achieved academically or on the sporting field, but more likely have been a contributor to non-academic activities within the school and presented as a role model to other students. This award is unofficially called the 'unsung hero' award.
The 38th year awards were made at the Rotary Club of Forest Hill meeting on Monday November 28th at Buccatini restaurant. The Guest Speaker was Thanushi Peiris, who was Whitehorse Young Person of the Year. Her message was Seek Opportunities, Go Outside your Comfort Zone, if you Fail then Keep Trying.
Bill Marsh read out citations, while President John and Assistant Governor Alma Reynolds congratulated each awardee and presented them with a framed certificate and a $50 voucher. The awardees parents and grandparents, brothers and sisters were also present to share in their achievement.
Award winners were:
Jamie- Blackburn Lake Primary School; Lachlan- Burwood Heights PS; Sarah– Livingstone PS; Suha– Mt Pleasant Rd PS; Mitchell– Orchard Grove PS; Cameron– Parkmore PS; Mitchell– Rangeview PS; Lyta– St Timothy's; Anastasia– Vermont PS; Neil-Vermont Sth SS; Ella– Weeden Heights PS; Sujandeep- Whitehorse PS
Youth Citizenship Award 2017
Our fourth Youth Citizenship Awards night was held at Bucatini restaurant on 5th June, 2017 (see below).
43 members, partners, parents, grandparents, siblings and friends attended.
President Elect Bill told the audience that the aim of the award was to recognise five students who, in the opinion of teachers from five local secondary schools, namely Kingswood College (Sophie), Box Hill High School (Nicola), Blackburn High School (Lily), Forest Hill College (Tom) and Vermont Secondary College (Ellie), have been inspiring in their support to the school and wider community.
He explained that each award winner was picked for being a huge contributor to school activities, a dedicated volunteer in the community and for being a role model to other students. Ron gave a background to the awards explaining that these students are ones who sometimes are overlooked and are 'unsung heroes'.
The prizes include a framed Certificate, and a voucher for $75.
Speaker Raagini Meyha,
talked about the fantastic 2 day residential Rotary program RYPEN (Rotary Youth Program of Enrichment) that she attended, and how it impacted and focused her thinking and way of life. Raagini went on to say that it pays to listen because everyone "has a story" and "one compliment can go a long way.
RYPEN, Rotary Youth Program of Enrichment is designed to encourage and develop leadership skills. Incoming Rotary District Governor Malcolm Chiverton handed out the certificates and the vouchers and spoke about all the other Youth programmes Rotary offers.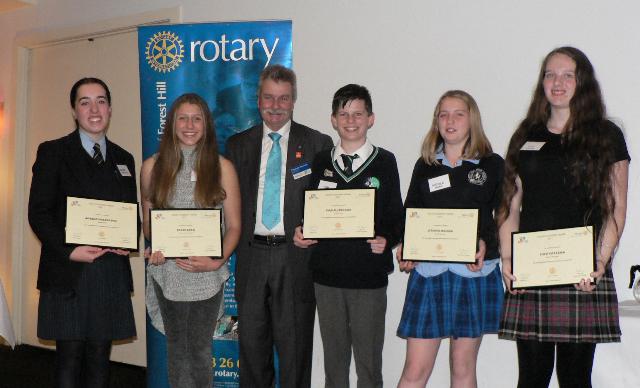 National Youth Science Forum 2017/18
The NYSF organised by Rotary gives a few select top science students the opportunity to follow their dream of spending two weeks at a science workshop at the Australian National University, Canberra. Siddant Arya & Rock Wilkins are candidates sponsored by our club for 2017/18
ConocoPhillips Science Experience 2017/18
Lewis Douketis & Prajah Sivayoganathan have been chosen by our club for the 2017/18 intake
Larry the Lorikeet Book Launch
Larry the Lorikeet officially flew into the hearts and minds of Victorian young children in August. Larry is the central character in a colourfully illustrated and cleverly written book designed to increase awareness of protecting the environment. Symbolically, the tale traces the flight around Melbourne's iconic Blackburn Lake, preserve of a lorikeet who is forced to flee his home in the face of developer's bulldozers which have destroyed his habitat.
The project was initiated, project managed and financed by the Rotary Club of Forest Hill, supported by Whitehorse City council. Forest Hill College led by Marianne McEwen, ran an art competition to decide the book illustrator. This was won by 14 year old student Zena who produced the book artwork. The story line and text came from Box Hill College student Adam with help from Liam and Brad.
The book was launched at Nunawading Library by President Bill Marsh from the Rotary Club of Forest Hill in the presence of Mayor Cr Sharon Ellis, other councilors and State dignitories. An audience of over 100 people listened to Lucy Menzies, The Lake Education Officer, read the book. Rotary distributed the book free to all local schools and libraries and Blackburn Lake where it will be used in the eduction program for pre schoolers. We encourage you all to read the book, and take your families to Blackburn Lake.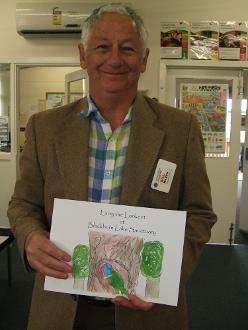 President Bill Marsh presenting a copy
of the Larry the Lorikeet book to
Burwood Heights Primary School for
their library.
BLACKBURN LAKE MOSAIC
On Friday 13th Feb 2015, we helped at the official unveiling of the "Great Wall" of Blackburn on the Lake Road retaining wall. Local artist Lucienne Noontil designed the mural and students from Nunawading Christian College, Blackburn Lake Primary School and Forest Hill College created the murals. There was an excellent turnout of students, parents, Rotary Club of Forest Hill, Melbourne Water and Blackburn Lake Sanctuary personnel. The Lord Mayor Andrew Munroe welcomed everyone to this great community event.