International Service
Rotary strives to improve world understanding, goodwill and peace. We do this through improving the health and education of people in need.
We raise money from Rotarians and the general public. It all goes on projects to help others in need. We have supported
The Hope Katolo School with $3,000
Pencils to "Draw a Future" with $3,000 worth of pens and pencils sent to Tavenui school in Fiji
$1,000 towards to district East Timor lighting project
$500 for the Rumbek school in South Sudan
$1,350 towards eradicating polio in the world
$500 for the Rotary Foundation, the largest Humanitarian Fund in the world
$500 for Interplast set up in the 1960's to build overseas medical capabilities in underdeveloped countries fully accredited by the Dept of Foreign Affairs & Trade
$1,000 set aside to respond to disasters in the world
Items below are
1. RUMBEK SCHOOL, SOUTH SUDAN
2. FOREIGN COIN COLLECTION FOR UNICEF
3. HOPE KATOLO SCHOOL in KENYA
4. NASAVUSAVU DISTRICT SCHOOL in FIJI (ABCD project )
Hope Kotolo School, Kenya
We have just received this email from Kenya
Hope you are fine and also doing well in this beautiful year of 2023. Here is the complete work of the water tank installation Rotary Club of Forest Hill paid for with the water coming off the beautiful modern Ford Davis Hall we built from the money you sent us. And I also wanted to let you know that the first term Request has arrived thank you so much. I shall prepare the new comers of baby class as they arrive. Lots of love from Georgina Achieng, Principal of the school.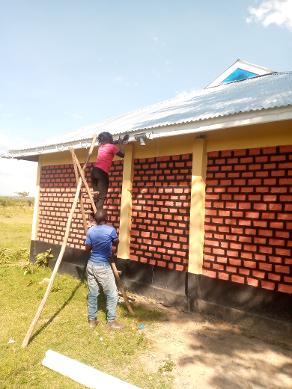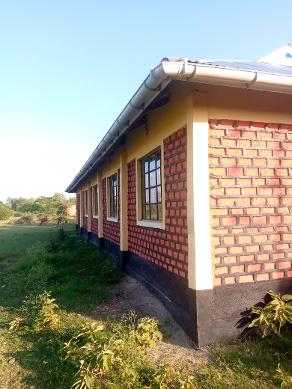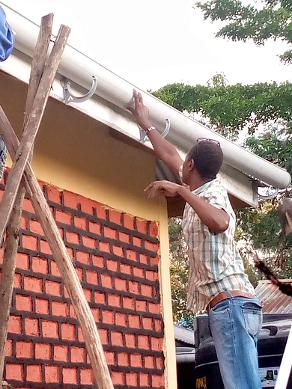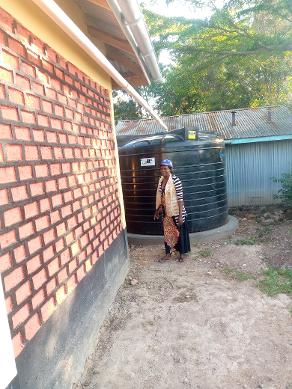 Sam Manhom was one of the "lost boys of South Sudan". He ran away to Kenya, spent 12 years in a camp, came to Australia, did manual work while he obtained book keeping qualifications, was given a job by Bob Williams at the Good Shepherd Foundation, and got a degree in accountancy from Victoria University. He wanted to build a school in his home area of Rumbek. With financial assistance from Rotary clubs of Forest Hill and of Manningham, the South Sudanese community, Rotary District Grants and the general public he raised the required AUD$89,000 for a 4 -room school, teacher's room, toilets and water bore. Local chiefs provided the land. The local Catholic Diocese run a school some distance away and agreed to oversee the construction and when complete to provide teachers and run the school of equal numbers of girls and boys, total 80 in all. The walls are now going up (March 2017).
FOREIGN COIN COLLECTION FOR UNICEF
RC of Forest Hill has initiated this D9810 project. DG (2014-15) Tony Monley in his year said "This is a great initiative involving little effort and no expense that could be a great source of publicity. Ron Brooks needs the help of all clubs"
UNICEF emailed " Rotary & UNICEF are a perfect match. Our history is working overseas for children in need and we have been converting foreign coins for funding over the last 24 years." UNICEF works in over 190 countries protecting and improving the lives of underprivileged children.
Since 2014-15, with help from over 25 district clubs we have collected 460kgs of coins and notes which have been couriered off to UNICEF who have valued them at over $13,000.....and are busily collecting the next batch. PLEASE HELP
SO GET OUT THAT COFFEE JAR (see picture) AND LET'S RECYCLE OUR WASTE COINS INTO SOMETHING VALUABLE FOR KIDS.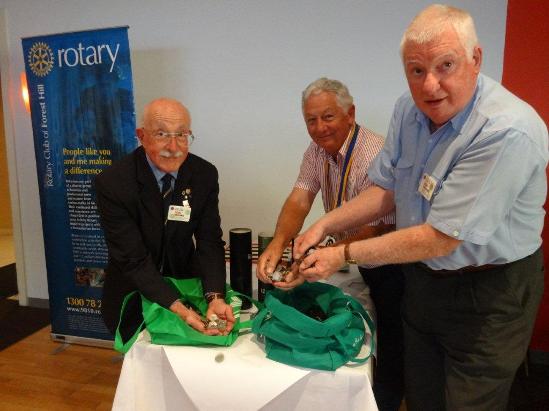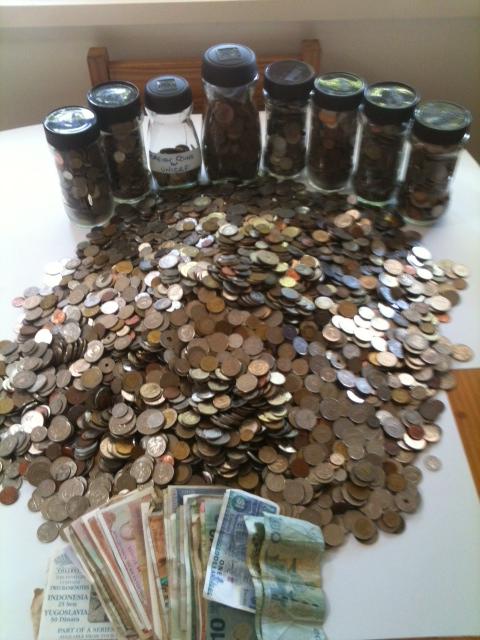 Hope Kotolo School, Kenya
These kids will be heading to primary school next year and this "end of year" excursion would have been their first trip outside of the village of Katolo. The bus is hired from a local high school and all of the arrangements are managed by Georgina and her team in Kenya. 100% of the funds for these excursions is made possible from fundraising/donations here in Australia. This is the second "end of year" celebration for the school this year, as our dedicated teachers have graduated two classes worth of final year students due to the catch-up required with school closures secondary to COVID. The school terms will right themselves again next year.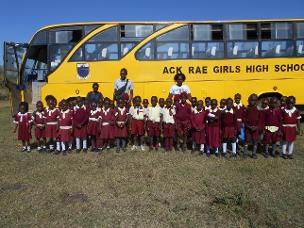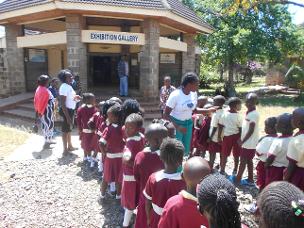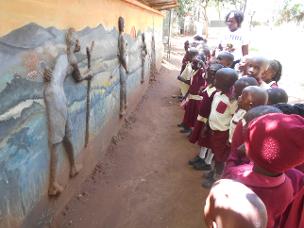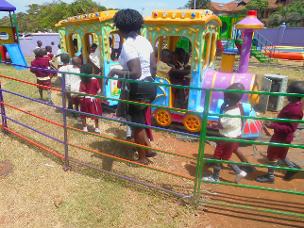 New Multipurpose room Dec 2021 which our club purchased the materials for and locals built with volunteer labour.
We have some happy news from Kenya in Feb 2020. Daisy, the daughter of Hope Katolo Nursery School's head teacher, Georgina, graduated from St Mark's Kigari Primary Teachers College. Daisy was only able to complete her studies due to generous donations of some of the already very generous supporters of Hope Katolo Nursery School. From the bottom of our hearts (and on behalf of Daisy and her proud Mum), thank you so much.
They have got their next water tank and it is loaded ready for transport to the school. Nov 2018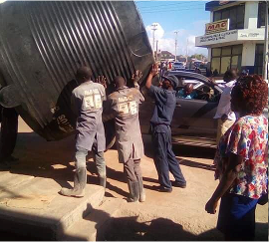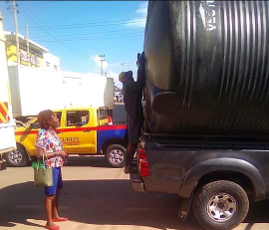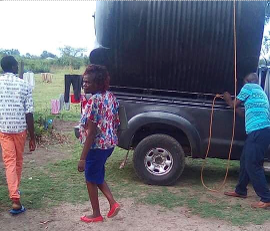 They are now doing extensions to the buildings to house more children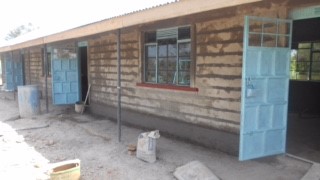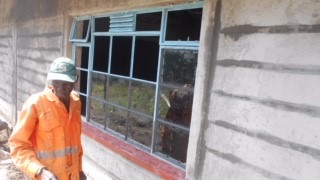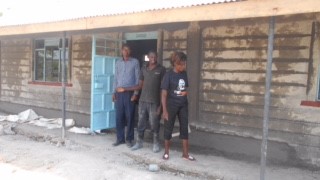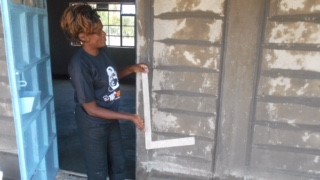 Melanie & Leanne Haley, the two sisters, who are the driving force behind the fundraising for this Nursery School in Kenya have established the school of about 80 students aged 3 to 6 years but up to 15% are HIV+. Rotary has been an essential key along with many individuals and organisations providing funds for new buildings, water tanks, vegetable gardens, sick bay, twice-daily meals, school uniforms, staff salaries and security fencing to make this possible. The school has been run by Georgina Achieng as principal with currently 3 teachers of the three age grades. It always thrills us to hear Melanie & Leanne speak because it shows how much help can occur if directed efficiently and in this case they have raised and carefully used $130,000 in helping those less fortunate especially to improve the lot of children whose poverty, HIV status, poor water quality and many other like problems that were not their fault. The locals provide all the labour with funds paying for materials.
The sick bay has now been completed (see pictures below) using local materials paid for by donations and local labour provided freely.
Email received from Georgina Achieng (18th May 2017)
I am so so so happy to inform you that the sickbay is complete and painted already just waiting for the beds and beddings,. I believe it shall really be very helpful,below are some pics of the progress of the sickbay building , please pass my sincere thanks to the Forest Hill Rotary club members and you (Melanie & Leanne) too.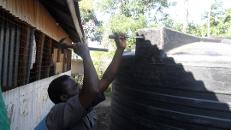 Here is the extra water tank our club provided being installed by local labour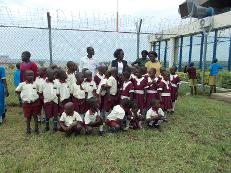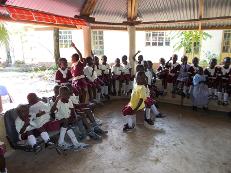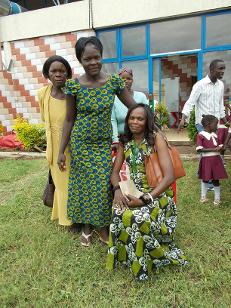 Teachers on excursion with the children
The ABCD project will use the old concrete floor and septic tank at NASAVUSAVU school, Fiji but instal a new building with separate facilities for males and females, a new floor and wall tiling and new plumbing, toilets and hand washing facilities. RC of Forest Hill will provide $3,400 while others will give $3,250 and the labour will be provided locally.