Jeremy & Mary Ann Furness are locals from Croydon. They sell children's books, oil paintings on gum leaves, and knitted toys in markets at Nunawading, Yarra Junction and of course the Rotary Blackburn station markets.
Jeremy started writing and illustrating his Barry the Bike series of children's books over 10 years ago. It is one of the very few children's books that feature classic motorcycles, cars, and trucks. Go to Barry the Bike on Facebook to see all the books in the series.
Mary Ann started oil paintings on gum leaves as a 15 year old inspired by paintings by her grandparents. Her grandfather was William Beckwith McInnes who won the Archibald Prize seven times. These gum leaf oil paintings are as unique as they are beautiful. She paints on specially prepared Tasmanian Blue Gum Eucalyptus leaves which when painted are sealed to ensure a long life. She has been a professional illustrator for the last 40 years working for some of the world's leading publishing houses but now Mary Ann runs Wattle Gum Studios nestled in the Croydon Hills.
Mary Ann started knitting toys as a girl and now has turned that pastime into a commercial venture with her beautiful, cute range of animals, fish and birds.
Jeremy and Mary Ann can be contacted on
mobile: 0403 310 032
email: mafurness@bigpond.com
or via Instagram mafurness_arts.
But better still, come and talk to them at one of their regular markets to see the full range of their talents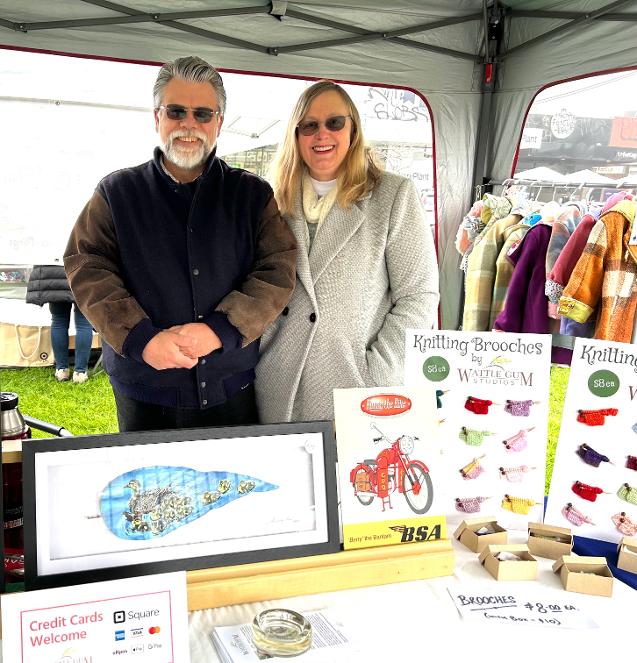 Julie started Brownies Now ! a Mount Waverley based business in June this year and has steadily gained a loyal customer base at the markets she attends and through her online presence. All her brownies are made from natural ingredients with no added preservatives, so they make a great treat for all. Julie caters for all consumers with her tasty treats including gluten free and vegan. Vegan is only available online at present. She does catering, events, weddings, and grazing boxes plus has an adult liqueur range. Her full selection is available online with select varieties available at markets.
"From making pikelets, scones and cupcakes with my mum when I was a child, to working in a cake shop in Scotland during high school, I've always had a love of cakes and baking" Julie said. This comes through in the finished products, which are baked with a high level of care and attention. Her years of baking experience have gone into developing a range of delicious flavours, and new ones are constantly being worked on and developed to provide you with something new. Julie does other markets including Mount Waverley, Hawthorn, and Berwick regularly and is finding her customers are returning regularly and referring others to indulge in her treats.
You can email her at browniesnow@outlook.com and find her on
Website www.browniesnow.online
instagram.com/brownies_now_julie/
facebook.com/browniesnow.julie/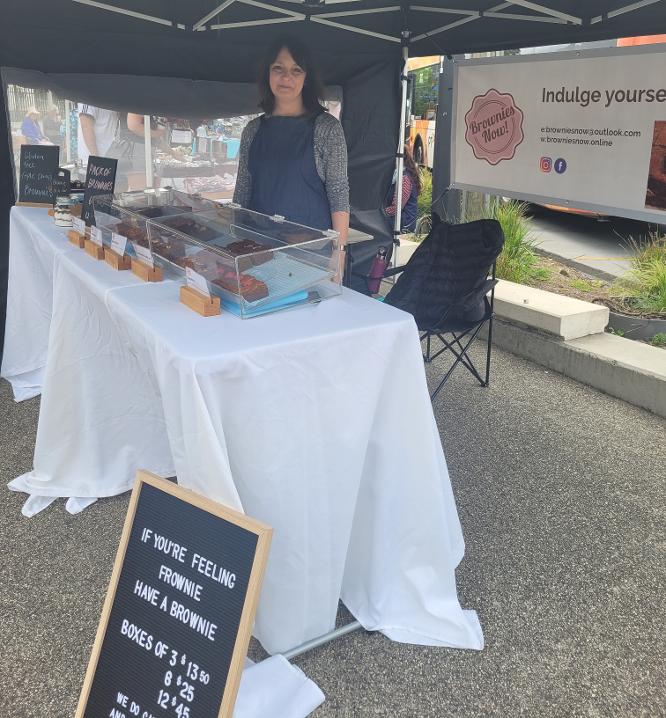 Lesley grew up in Perth in a childhood that had its share of ups and downs and traumas. Navigating the rollercoaster of life, a series of events led her through some rock-bottom moments which she used as a base to make major changes. She has spent the past 48 years in the airline, legal, building, insurance, and advertising industries in flight attendant, administration, project management and advertising sales roles. For the last 25 of those years she has also been on an extensive, and often extremely challenging, spiritual and personal development journey. She has over 15 years of experience working with women in 12 step recovery and the disease of addiction. Sober now since 21 March 2006, Lesley's clean lifestyle has seen her transform into a fit, vibrant 67-year-old woman. Lesley's own spiritual and personal development guided her to write her first book, it poured out of her in just two months. Lesley has two wonderful adult children, lives in Melbourne and is owned by Soli the cat! Lesley is selling her book at the market and is always ready for a chat about ….. anything ! The book reviews say: It's real, it's raw, it's gutsy, it's transformational. You will laugh and cry…………. and not put it down Through her journey Lesley has learnt and conveys with clarity the skills and tools she uses to give up her addiction, lose weight, and leave a very dysfunctional relationship. Find out more at www.lesleyrondathomas.com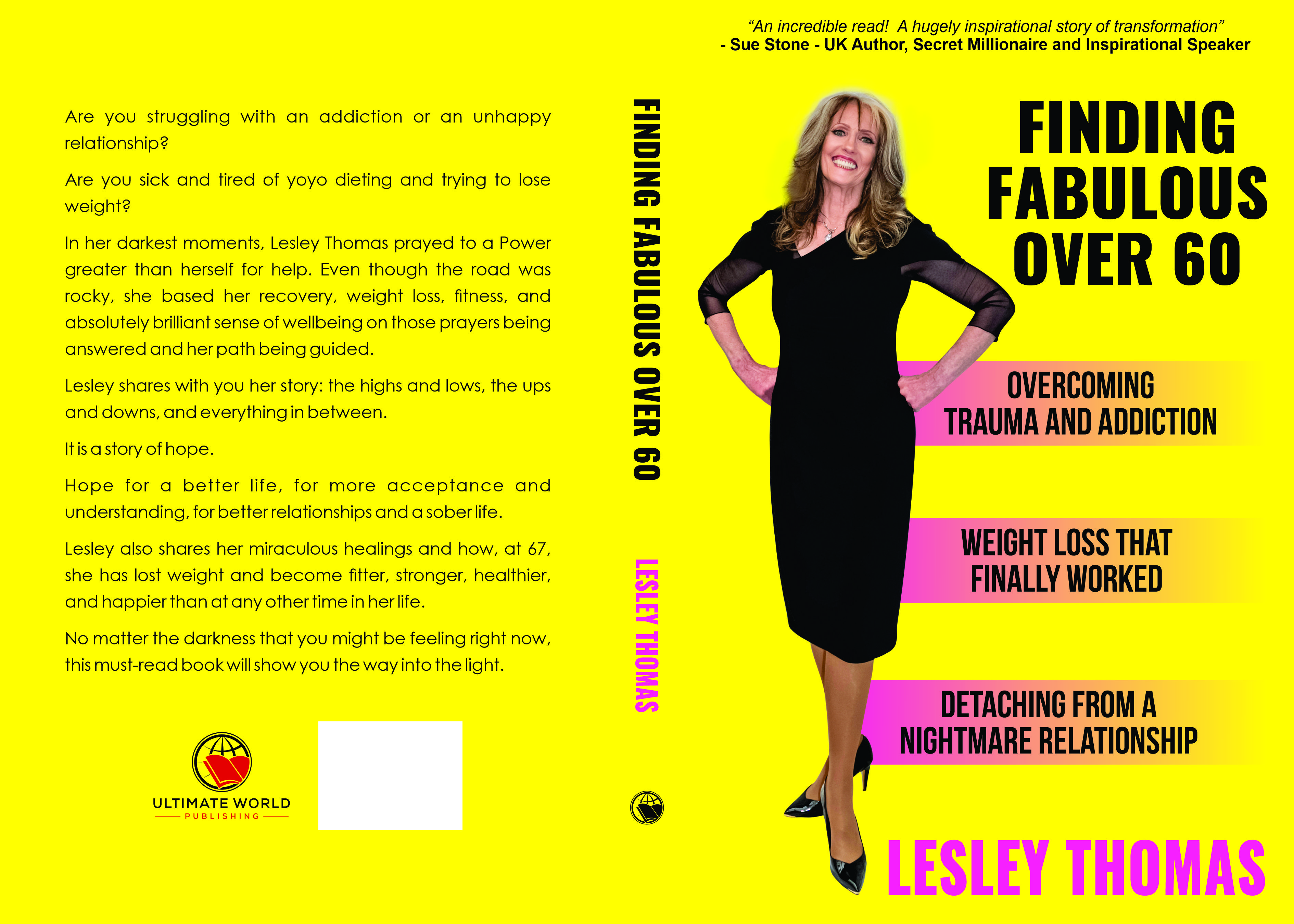 PREVIOUS TRADERS OF THE MONTH
Kumfy Kids
For 22 years, there has been a knitting corner at the Blackburn Market just opposite the Band stand. They have been selling at markets for 26 years. Everything on sale is hand knitted, mostly acrylic "to keep the price down" Bernadette told me. But they will, and do, make woollen items on order. They generally knit items for new born up to about 4 years of age. They also sell handmade knitted clothes hangers. Jeanne was sitting along side Bernadette and told me that they do have other knitters at times working at home including one lady of 92. They have a regular turn over of garments as if anything doesn't sell after a little while, they donate it to the op shop. That is an amazing community spirit. Go and see them at work both knitting away while they chat. They will make any item at any size on order. Kumfy Kids can be contacted at bmcrennan@gmail.com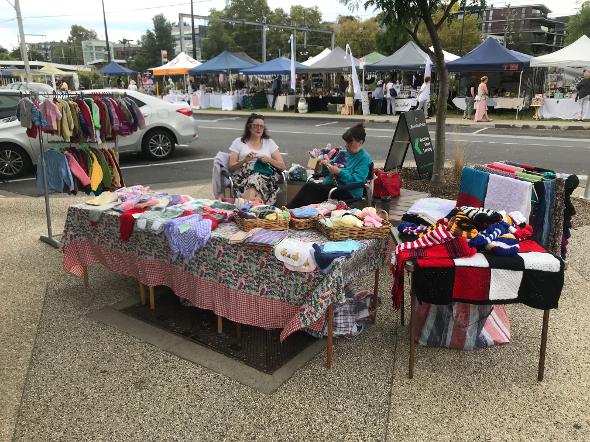 Barbara Power started making her own cheeses over 10 years ago. With a degree in Microbiology she had a good scientific foundation to base her production. Two years ago she started up her own commercial business Powerhouse Cheese and persuaded her sister, Donna Hall, who also has a Science degree, to leave her native New Zealand and join her in this venture. These two Artisan Cheesemakers use cow's milk in small 100 litre batches of milk from St David's Dairy in Fitzroy. They sell their cheeses at markets every Saturday and Sunday around the Melbourne area or you can order on line for pick up on Monday afternoon. The rest of the week you will find them busy in their cheesery making their standard Blackburn Blue, Whitehorse White and Ash Bree cheeses or producing new varieties like their Bellbird Blue or a surface ripened Rosella Red which may become another standard offering in the future. Certainly, these two talented very local artisan cheesemakers running Powerhouse Cheese have a future.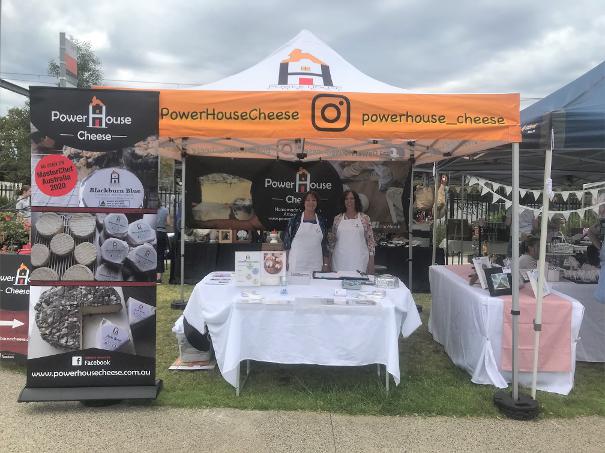 The Bee-autiful Basin Backyard
Nine years ago Michael asked Meredith for a beehive for his 50th birthday present because he didn't want to keep hand pollinating their trees and plants on their ¼ acre block in the foothills of the Dandenong ranges. Who would have realised that it would lead to a new career and the launch of The Basin Backyard, with over 240 beehives throughout Victoria, 10 regular markets a month, and a shop in Knoxfield (Unit 1, 31 Rushdale St).
Michael & Meredith told me "at the Basin Backyard, we sell pure raw honey & bees wax and related products e.g. lollies containing our honey (eg. honey & eucalyptus drops, nougat & peanut brittle). As well as our beeswax which we make into candles & food wraps. We are the beekeepers so we are hands-on for the whole process, from looking after our bee-autiful bees, harvesting the honey & jarring the honey and collecting the wax which is in our products. We are located in The Basin and we have 240+ beehives throughout Victoria. Whilst we have 5 hives on our property, the majority of them are local in the Dandenong ranges and we also have them on properties in NW Victoria, the Mornington peninsula, Gippsland and various other locations in Victoria where our bees can collect different varieties of flora for our different tasting honeys. Come and have a chat to us about our bees, our honey, our wax, our lollies & the value of bees in our environment."
They will organise bee swarm collection, they have bee keeping supplies. Usefully, you can pay by card.
www.tbbyard.com.au 0419 607 807
www.facebook.com/Thebasin1backyard/
instagram.com/tbbyard/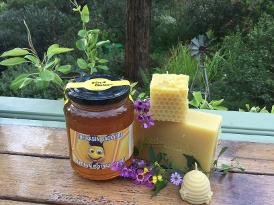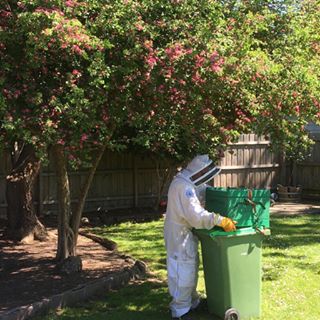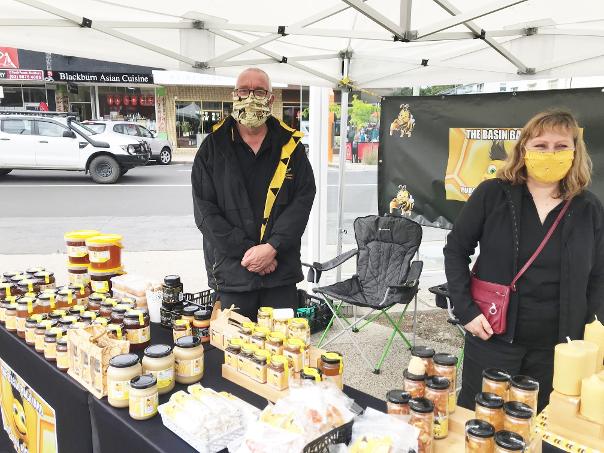 Dawn's Flowers
Dawn Hooton has been a regular at the Blackburn Craft Market from the very beginning. If you want her plants you have to come to our market as she sells nowhere else. Dawn lives in Forest Hill and propagates every plant herself from her own seeds or cuttings. Her love of flowers and gardening started as a young girl when her father bought her a packet of Fuchsia seeds………. it has been her hobby ever since. It's amazing looking at the large healthy specimens of evergreen perennials such as the fuchsias, ferns, and pelargoniums she sells with long flowering periods all at very reasonable prices. Visit Dawn, have a chat, buy a long lasting memory.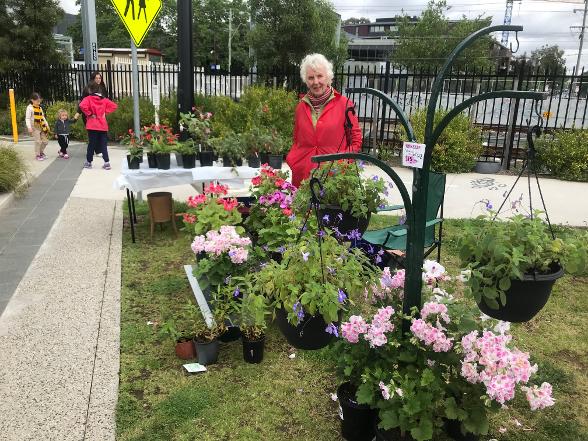 Beauty Arts n' Crafts. Trisha Haddock is continuing her parent's tradition from when they ran their gallery and picture framing business. Trisha's mother Gwen Anderson sold her hand painted china plates, tile paintings and ornaments. Trisha has moved to Melbourne and loves to share her mother's painting talent and her glass pendants. Gwen can personalise most plates for special occasion and also paints cards using the china paints with mediums made from herbs and spices. Trisha has started making her own paintings for sale but her special artistic skill is making kiln glass pendants, dishes and earrings. Each one is a unique design. In the last few years Stephen and Trisha have been regulars at the Blackburn Craft market. Trisha's grandfather is a professional artist, Dick Anderson who "went bush" in 1969 to paint Australian landscapes. Not to be outdone, Trisha's partner Add a special touch to your garden with one of Stephen's handmade birdhouses., which Trisha paints. Trisha has a small number of very reasonably priced plants for sale.
Trisha and Stephen would love to talk to you about their wares. Find out more about their unique kiln glass pendants, earrings and dishes, the beautifully hand painted chinaware, the plants and painted birdhouses. You can personalise a birdhouse, choosing colour and design or personalise china painting for christmas, a birthday etc. Phone: 0408 369 078 or talk to Trish at the Blackburn Craft Market (second Saturday every month).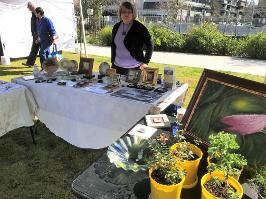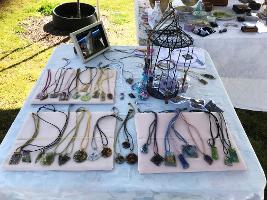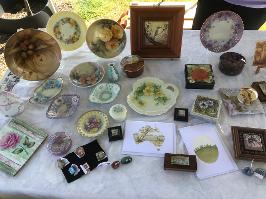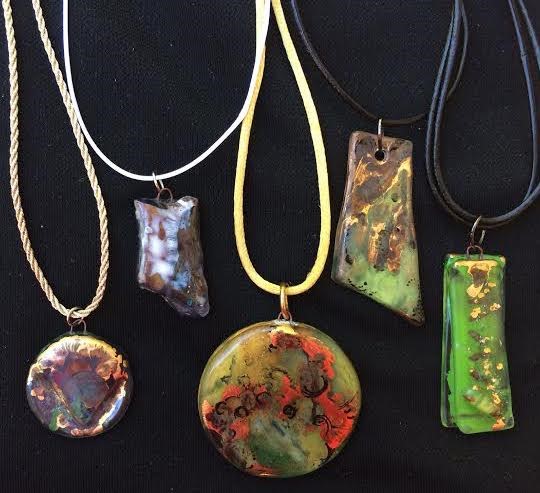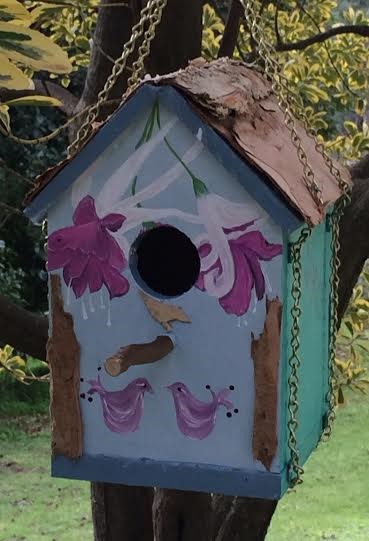 Outback Spirit have been regulars at our market for years and they also regularly sell at the Rotary Club of Mt Waverley and Dingley Farmers markets amongst others. Juleigh and Ian Robins make all their chutneys, sauces, pickles and marinades at their new Dandenong factory. Not only are they delicious but they are gluten and MSG free. Ian and Juleigh are recognised pioneers of the Australian native food industry and have been at the forefront since its inception in 1986. They established Robins Foods in 1997. Ian and Juleigh's vision is to bring Indigenous foods into the mainstream food market and the company is the industry leader supplying the Outback Spirit branded range of products to supermarkets nationally in Australia.
In 2000, Ian and Juleigh decided to formalise their relationships with the company's indigenous suppliers and established an ethical supply chain that ensures that benefits from the sale of Outback Spirit products go back to the Aboriginal people who are developing their own enterprises based on native foods. They established the Outback Spirit Foundation to further help the Aboriginal people.
Juleigh is an accomplished cook and together with Ian has written three native food cookbooks – Wild Lime (1996 Allen & Unwin) and Wild Classics (2000 Allen & Unwin – with Ian Robins) and Wild Food (2010 Lantern Books, a Viking Books imprint). So, go and have a chat to Juleigh's brother in law Bill at the Blackburn market stall and taste some of these unique foods. Find out more about the products, the company, and the Foundation at
recipes@outbackspirit.com.au
or phone +61 3 9398 1088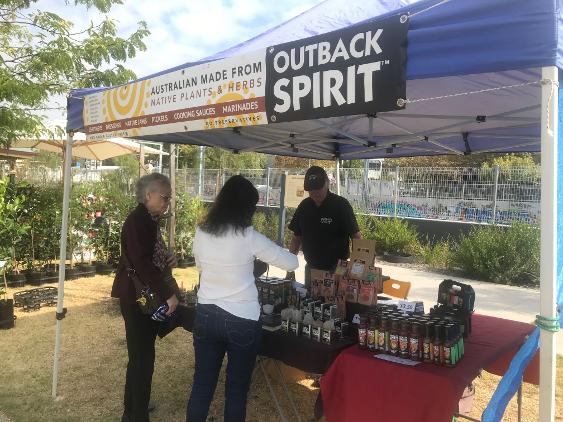 The Hazelnut Tree is a small business based here in the eastern suburbs of Melbourne producing handmade soaps and body products. Hazel has been a regular with us at the Blackburn Craft Market for eight years and her products can also be purchased from the "Market Fair" 2/794 Burwood Hwy, Ferntree Gully. She lives just around the corner. At busy times she ropes in her children and husband to help on the stall making it a family affair.
As you can see from the photographs, there is a beautiful unique range of soaps poured and cut by hand. She makes her soaps using the traditional cold process method from olive oil, castor oil, coconut oil, avocado oil and hemp seed oil – no palm oil here. Hazel then uses natural colours, plant extracts and essential oils. The range also includes liquid soaps, shampoo bars, moisturisers, lip balms and more. She has an unscented range for people with sensitivities.
Hazel will be happy to talk to you about any of her products as she personally makes them. Come along to the Blackburn Craft market or email her. To make things simple, you can pay by EFTPOS.
Hazel can be contacted by email on hazel@thehazelnuttree.net and take a look at her website www.thehazelnuttree.net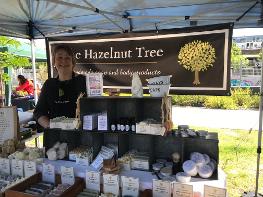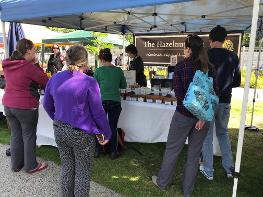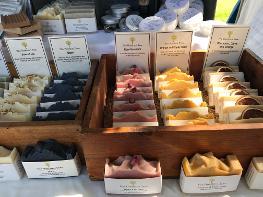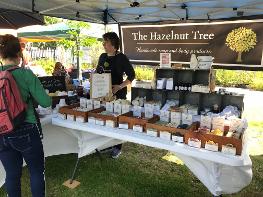 Jo-ann of pee wee designs and Ebony of EbBie Jorge & Co share a stall (Ebony is Jo-ann's daughter in law). Their products are labours of love developed from their hobbies which they sell at two markets each month, our Blackburn Craft market and the one at Park Orchards. They have been regulars with us at Blackburn for the past 2 years. Jo can be contacted by email on peewee.designs1@gmail.com while you'll get Ebbie at ebbiejorgeandco@gmail.com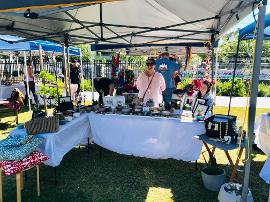 Jo is a cheerful stallholder who would be happy to talk to you about any special needs you might have. Come along to the Blackburn Craft market or email them.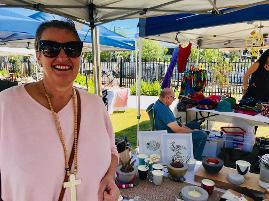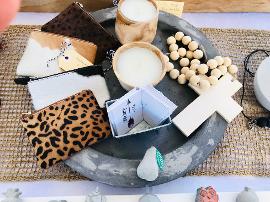 As you can see from the photographs, they have a range of personal accessories including framed original pen and ink drawings, hide and leather purses, hand crafted clay bead jewellery, and cushion covers. They put their perfumed candles into concrete bowls which Ebbie's partner makes, he is actually a concreter by trade. You can also get larger concrete bowls beautifully polished on the outside, some of which contain succulents. To make things simple, you can pay them by card.
Garfield Fresh Harvest
Originally of Greek heritage, they are well settled locals now. Your intrepid reporter had difficulty getting much information out of them………… they did not like talking to "the press" ie the Rotary website writer. I just managed a quick few words from Terry and Irene before being shooed away. These fresh vegetable stall people have been coming to the Blackburn Craft Market for over 2 years. They have had an egg farm at Coldstream since 1982 and have been selling at markets in Mt Waverley, Warrandyte and Longwarry for 20 year and also have a shop in Garfield.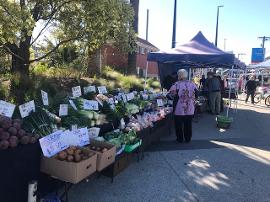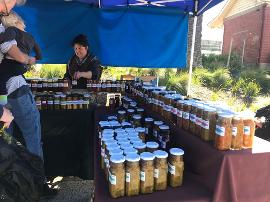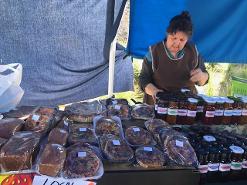 They also sell a whole range of home made chutneys, pickles, and relishes plus various quiches like spinach&tomato, spinach&capsicum, mushroom&leek.
Yarra Valley Eggs including free range can be bought as well.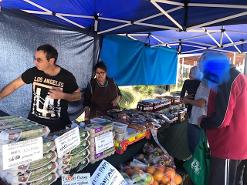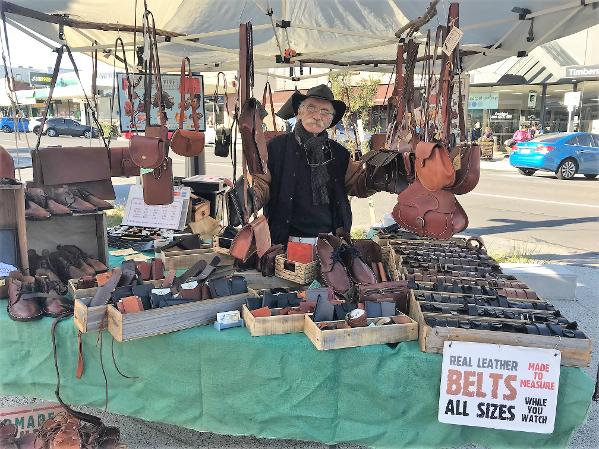 The Earthfive leatherworks stall is operated by Peter Davies who has been a leatherworker since 1969, with a few years in between as a graphic designer.
Peter was telling me, between making made to measure belts for three different customers, that he started his leather journey when he made himself a bag from a goatskin in Kabul in 1969. He was travelling overland from the UK to Australia and wanted to replace the shoulder bag he had. So, he made one! He then made a few more for friends. When he arrived back in Melbourne an old friend heard about his bag making in Kabul and handed him a couple of hides he no longer needed and suddenly this became EARTH Leatherworks in Glenferrie road, Earth ll in London when he started travelling again and Earth Three in New York when he moved there. Returning to Australia he had a big workshop employing 10 staff. Now he is on Earthfive.
He has been coming to our Blackburn market for more than 4 years. Peter makes shoes, sandals, handbags, purses, wallets, wrist warmers, glasses cases, three legged stools, you name it. He has made leather thigh length boots and helmets for films and the theatre. He will quote on any repairs. He takes credit cards and you can use PayPal. Come and see him at the Blackburn Market or Cockatoo, Mulgrave, or Belgrave markets.
Contact him via his website www.earthfive.com.au by email peter@earthfive.com.au or 0425 713 889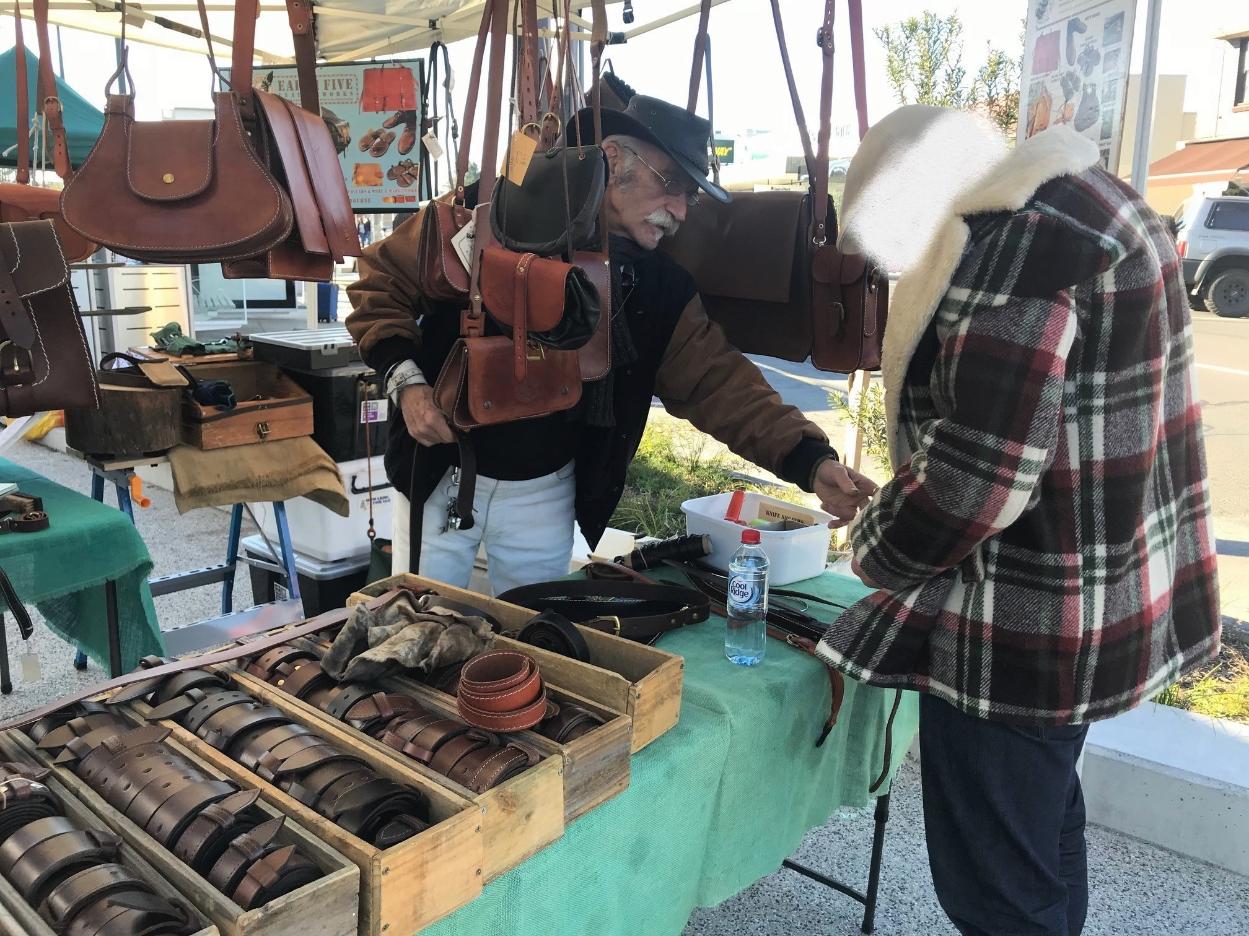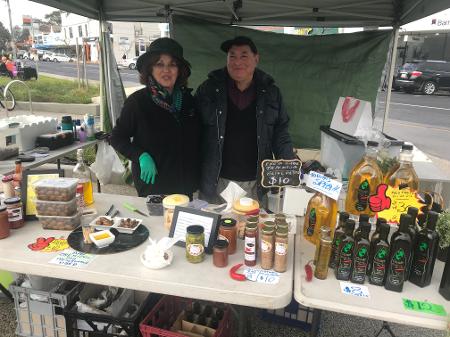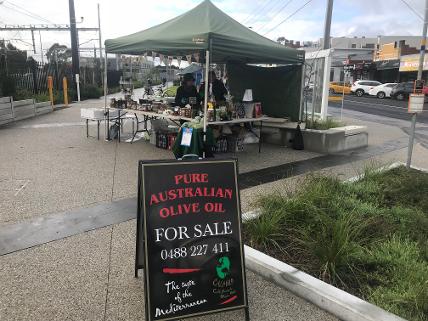 The Calabro stall is operated by Josie and Paul. They have been coming to the Blackburn market for more than 5 years. They live locally in Knox but also Paul lives a lot of his time on the Calabro Olive Grove at Toolleen near Heathcote where they have been growing olives on 87 acres for more than 20 years. Josie and Paul have run fruit shops locally all their lives including one in Blackburn. When they decided to retire 5 years ago they thought they'd have a hobby of continuing selling their cold pressed olive oil, marinated olives, tapenade, chillie jam etc. This has grown to having a stall at local markets every Saturday and Sunday in the year!
They originally came from Calabria. She was only 21 when she came over here by boat in 1971 with two young children and Paul. They now have a grown up family of four. Paul is 76 and uses some help to pick their olives. He told me they grow many varieties including Frantoio, Calamata, Manzanilla. Their products are all natural with no added chemicals or preservatives and you can always buy their raw olives and have a go at marinating them yourself. All the tome I talked to them they were either serving customers or cutting each one of their raw olives which they later soak in salt to cure them before marinating. Their hands were busy the whole time. They can be contacted on 0488 227 411.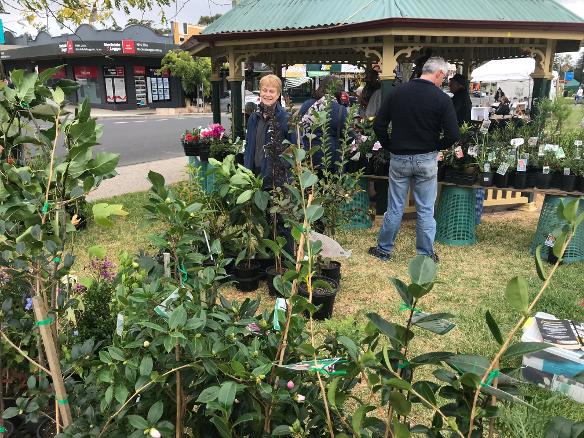 Mast Gully Nursery stall is operated by Jenny Lee. She has been part of the Blackburn Craft Market for over 20 years, about 5 years after she started her business on 5 acres of land Upwey. Jenny runs a wholesale flower business during the week but at weekends you'll find her at markets selling plants. She goes to six different markets including Rotary markets at Nunawading, Doncaster and Warrandyte. The plants started as a hobby which soon grew into a business. She has a large variety of potted plants but specialises in helibores and would love to talk to you at the market about her passion for her self propagated plants which probably accounts for half her stock with the other half coming from nurseries in the Monbulk area. Just recently she has downsized her block though keeps the same number of plants for sale. While Spring may be her busiest time as people start to think about what new plants they'll plant out, Jenny says she's pretty busy throughout the year. She is thrilled with the new Blackburn Craft Market setup so come and see her next to the rotunda and perhaps listen to jazz at the same time. You can always contact her at donallan@bigpond.com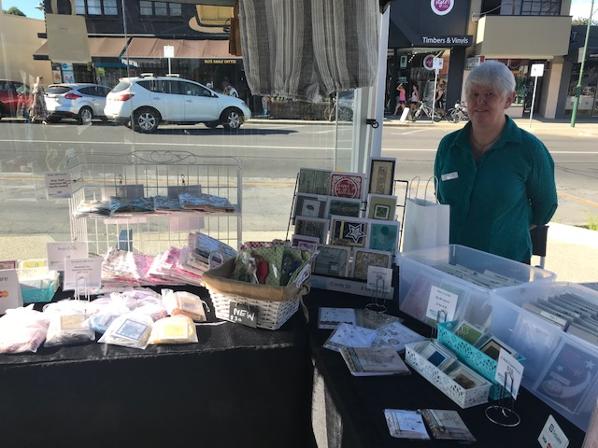 bellburn crafts stall is the brainchild of Shelagh Black. Shelagh, a local Blackburn resident, sells hand made cards, items for baby that she has personally made and when the weather turns cooler, her knitted clothes. She has made all the items she sells and has had a Blackburn market stall for 8 months. Shelagh started making things for her granddaughter (now 14 months old), including bibs, nappy holders, change mats, baby wear etc. She made many more than her granddaughter could use so had the great idea that others could benefit from her skills rather than just her granddaughter, hence the craft stall. Her granddaughter continues to be the "testing ground" for her new products so expect the range to increase as granddaughter gets older. As she makes everything herself, if you like something but not the colour or it is the wrong size, well she will make it for you. How's that for service. Shelagh has a stall at a number of markets including two other Rotary ones, Hawthorn Makers Market (1st Sunday), and Waverley Market (2nd Sunday). Good news is that she takes Visa & Mastercard.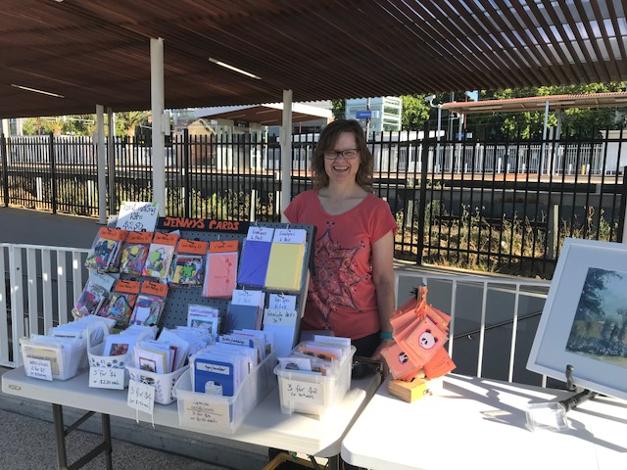 Jenny's Cards stall has been a regular feature of our Saturday Blackburn Market for over 9 years. Jenny, a Box Hill resident, sells her own original hand painted cards in a range of sizes and her hand painted water colour framed paintings. The cards are 2 for $7 and 3 for $6 depending on the size and the framed paintings range from $18 to $70. Jenny also sells papercraft cards which uses lots of recycled materials like cloth offcuts and chocolate wrappers and sells kits for $2.50 containing some cards and loads of cutouts so children can make their own cards.
She started painting 12 years ago as a therapy because of her depression without showing any prior artistic skill and soon showed a great aptitude for water colours. She has been taking lessons until recently (as you can see from her skills, she should be giving lessons!). Jenny only attends one other market a month, the East Ringwood Community market on the 1st Saturday of the month. She told me that last year she sold 1,200 cards and 59 paintings. We would suggest you look her up next time you attend the Blackburn Market. Her cards and paintings are seriously good and very well priced.