***** RECENT (and PAST) EVENTS *****
Club Changeover June 2021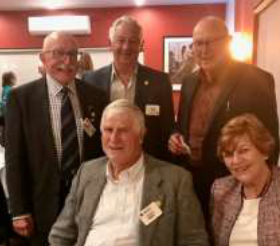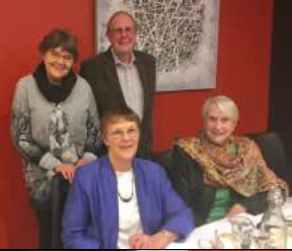 A selection of photos from the Club Changeover June 2021 at Bucatini restaurant. We met up with many of our past members, honorary members, family and friends of the club who have been so supportive over many years, Merle Smith with Gary & Meryl, Glenys Coates, Roger Davis, Peter & Pam Davis, Geoff Logie-Smith, Shia Smart & Duncan. A great fun night.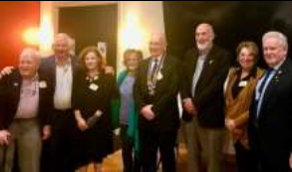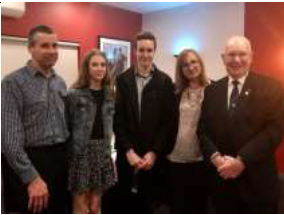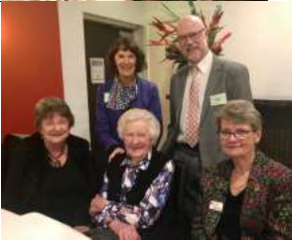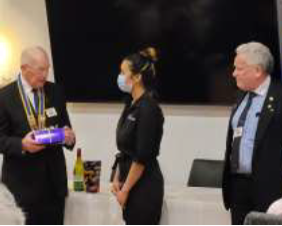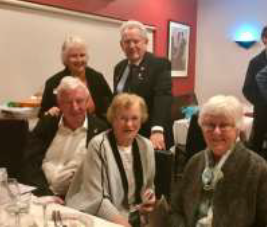 Bob Williams and Bob Laslett busy making and selling sausages at the Rotary Club of Forest Hill stall in Surrey Park.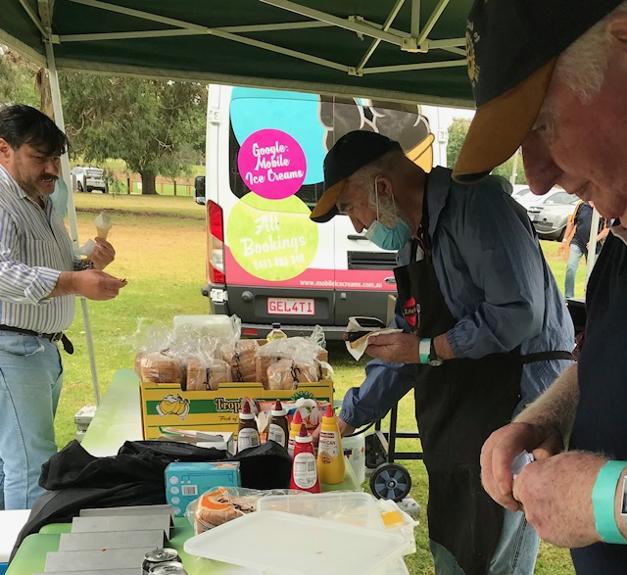 Our DG Alma was front and centre at our Club 45th Birthday celebrations last night 14th Sept 2020. For the first, and hopefully the last time, we had to celebrate our birthday remotely on ZOOM. But many of us had cakes with candles including Warwick (our sole remaining foundation member), Bob L, Ron, and Bill.
DG Alma gave us a down to earth talk about what we could focus on during and for perhaps the next two years in our local community.
One of the many cake displays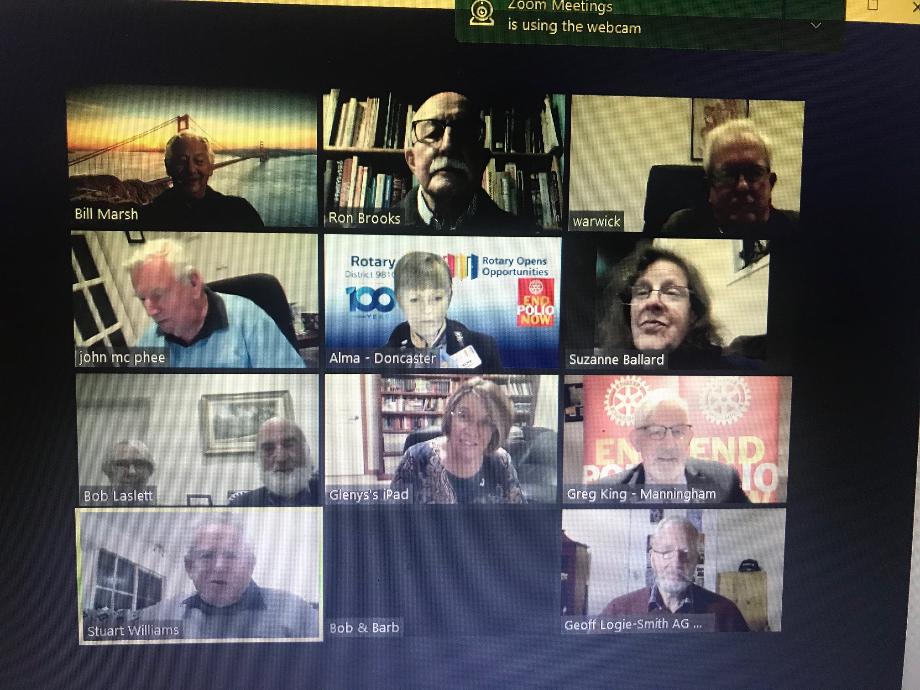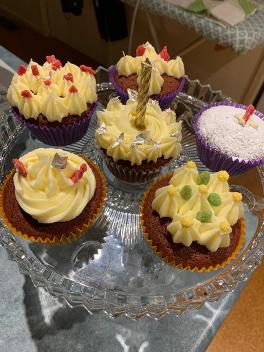 Peridot Theatre Preview Night Fund Raiser Thursday 30th January 2020
Last Thursday, we had our third and most successful fund raiser at Peridot. Over 142 attendees had a hilarious night at this comedy about oldies in a retirement village. It was a noisy happy get together with about 60 coming from the Rotary clubs of Nunawading, Boronia, MASH, and Mount Waverley with a few from other local clubs. We are very lucky to be given this opportunity to raise funds at a Peridot preview night. We always opt to charge less than a normal night yet put on a generous spread of biscuits, sandwiches, cakes and slices plus of course sherry, wine, tea/coffee, and soft drink pre show, at the interval, and after the show. Peridot people were so generous with their help on the night, particularly Adam who was "front of house" and Wilf who was "technical". It was good to see all the actors and backstage personnel mixing with the crowd at the end and enjoying a well earned drink. A number of them asked "Who were the caterers? The food is amazing!"
After expenses, we cleared just over $3,000, including the raffle and selling off the left overs to club members. Most of this is earmarked for the Hope Katolo preschool project in Kenya who are always very frugal in the way they spend money. Although we offer other clubs a substantial amount back for each ticket they sell, they almost all are happy to donate this to Hope Katolo Nursery School in Kenya. A very kind gesture. Peridot theatre are very generous in the way they have offered us these opportunities to raise charity funds. We should reciprocate by going out of our way to support them by going to all four plays during the year and attending their annual weekend One Act plays. And meanwhile, tell your friends to go to this show.
Bunnings Bake Sale Christmas Fund Raiser Saturday 14th December 2019
The club's second Bunnings Bake Sale was another great success. Many members and spouses contributed baking for the cause and the tables were laden and ready and open for business by 9:15. Despite it being a bit chillier than expected the club raised $640 which will ensure the photo contest for 2020 can be expanded as planned. Popular on the day : chocolate truffles, cake slices and cookies. We priced the much sought after yo yos at $4, which was at a premium considering their small size, but we still sold out of these highly prized items.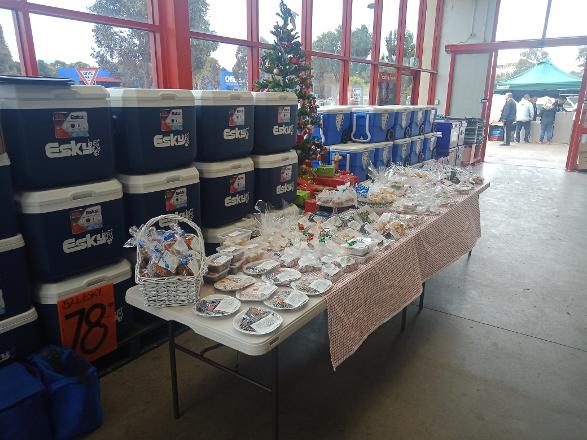 PAST EVENTS
Visit to Hidden Springs for a BBQ with the three Davis brothers
RYDA Rotary Youth Driver Awareness at Box Hill Institute, Lilydale 13th June 2017
OCEAN GROVE MEETING at the Donaghey's
2017 BBQ get together at the Finke's for our traditional 1st meeting each New Year.
Blackburn Station FREE!! Sausage Sizzle supported by Melbourne Metro
Cherry Orchard visit December
Larry the Lorikeet - IN BRAILLE
Australian Jazz Museum visit
On a beautiful sunny Fri 17th Nov 2017, a group of club members, partners, a past member and friends drove down to Hidden Springs nr Inverloch for a BBQ and catch up with the Davis brothers Roger, Peter and Gary. They are fantastic supporters of our club funding scholarships for young people that need support in their education at school and in their trade. A great social get together and to see their Brangus cattle and their "extensive" fruit orchard.
We had the traditonal visit to see the shed full of old mainly Fordson tractors. A couple were started up and driven, even in the rain by Roger and Peter (the mechanical wizard). And boy, did it rain. Suddenly out of nowhere the heavens opened and we had 17 mm of rain in just 20 mins including hailstones and high winds.
Society benefits greatly from such wonderful people like the Davis brothers, their partners and of course their amazing father Ford and mother Eve who sadly are no longer with us.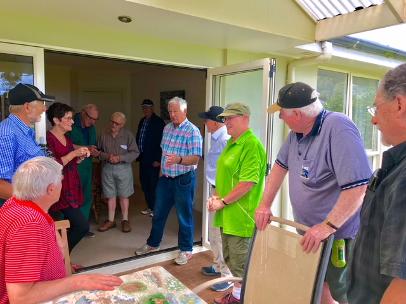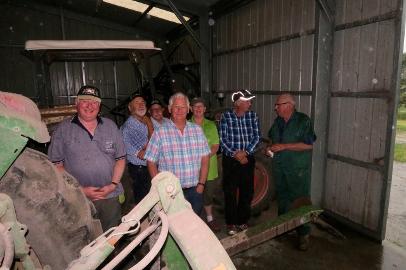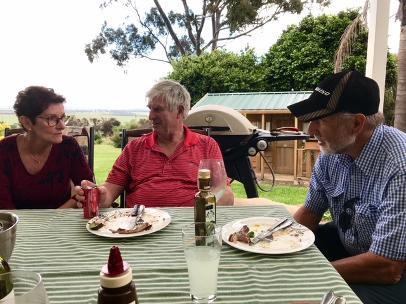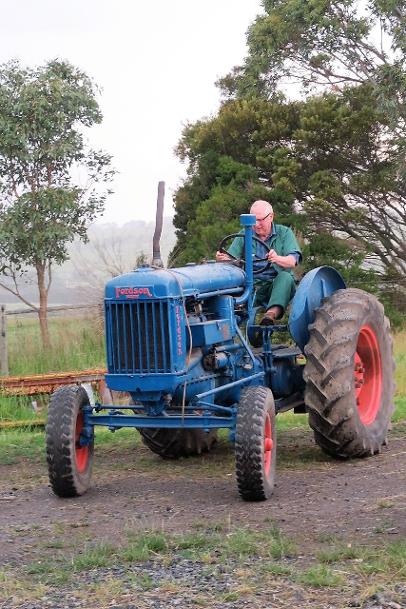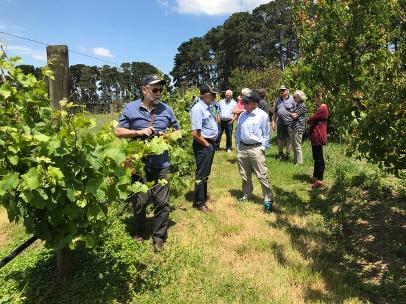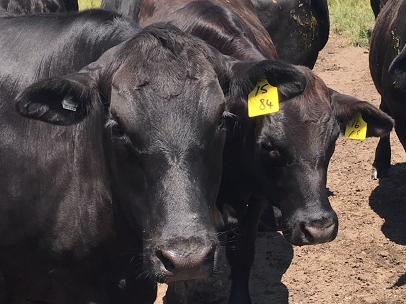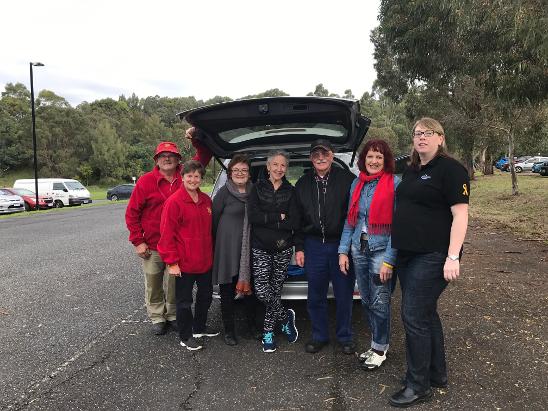 Robbie, Martine and Ron volunteered to help RYDA, Rotary Youth Driver Awareness, at Box Hill Institute Lilydale 13th June 2017. Over 170 students from Vermont Secondary College participated in six interactive workshops and demonstrations to help young adults make better, safer choices when getting into a vehicle. A big thank you to RC of Lilydale in providing the other 3 volunteers. A great example of combining with another club for the community good.
On a warm sunny Saturday in February, 17 of us drove down to Ocean Grove for what is now turning out to be an annual event. Catering was spread around among the participants both in the supply and consumption. Most of us then went down to the beach to walk off the lunch. Hot enough to swim but there were no takers. Thanks Kathy & John for a wonderful day.
(with 15 of us at the previous night's Peridot "The 39 Steps" it has been a very social weekend for the club.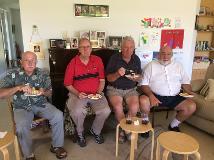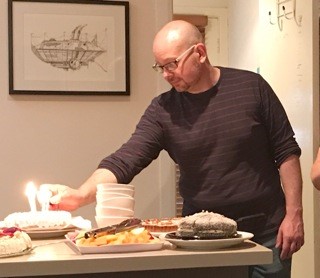 Mike relaxing now all his preparation is complete for the BBQ at his and Keira's home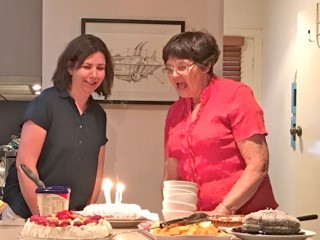 A double birthday to celebrate.
The "boys" at the Finke BBQ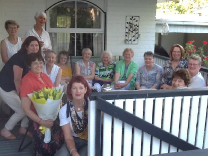 The "girls" at the Finke BBQ
Our second SAUSAGE SIZZLE GIVEAWAY this year, courtesy of Melbourne Metro, was at Blackburn station on Wed evening 1st Feb (see photos below). We cooked and gave away 800 sausages and 200 veggie burgers mostly smothered in onions and sauce. What a greeting to the tired commuters on their way home. We ran the operation from 4pm until 7pm. Great fun for the Rotarians and partners who sliced and cooked & constructed the FREE FEED while the commuters with the last of their energy sauced their snack. Some came back for seconds. One guy recycled himself through the queue FOUR TIMES!! All good fun with some of the Metro staff joining in the food give away while many workers and police joined the food queue. Didn't have to ask him if they were good or not.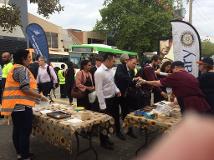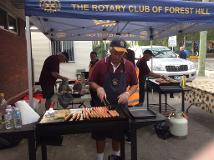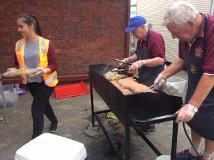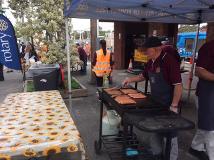 Our Annual visit to club member Chris Tuck's cherry orchard at Alexandra is always very popular as he lets us all "pick our own" from his 500 trees. Once again it was a beautiful day for the BBQ. Don't think that red liquid was really cherry juice. Happily, honorary member Don Hulland was able to join us.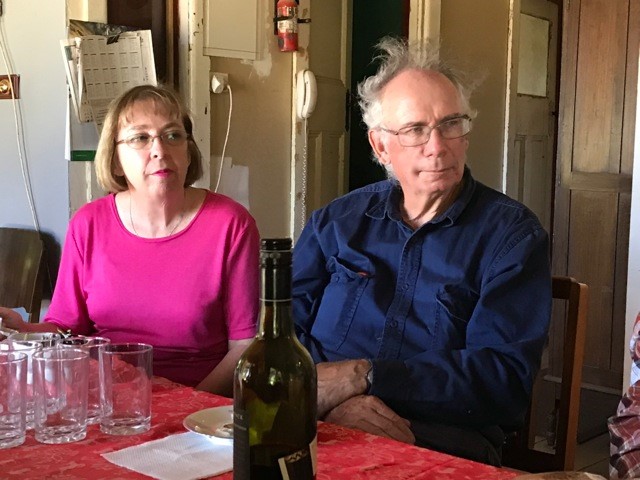 Judy & Chris "farmer" Tuck relaxing after the RC of Forest Hill onslaught.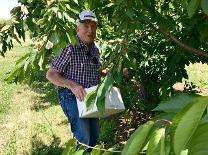 ex farmer Warwick swopped his treasurers job and became a picker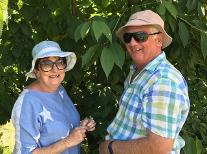 Bill & Judy Marsh posing before the serious picking job starts.
Don Hulland enjoying life in the slow lane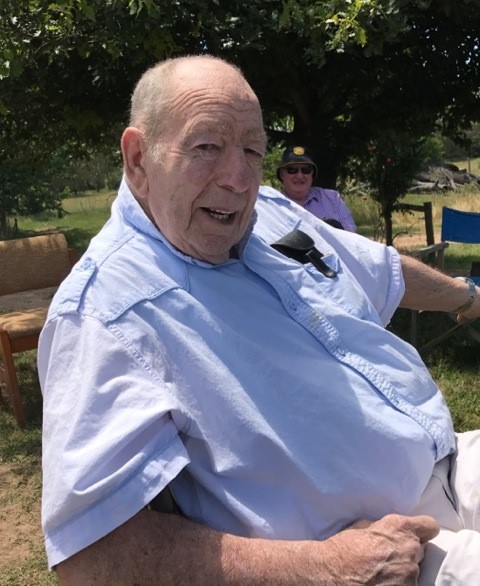 On 7/4/16 sight impaired children from Vision Australia had their inaugural visit to Blackburn Lake Sanctuary to take part in a Bush Experience program. As part of the program the small children's booklet, our old friend Larry the Lorikeet, now produced in Braille, was used. Larry was a Youth Service Project in 2014, initiated by the Rotary Club of Forest Hill and with support from Whitehorse Council. It featured writing and art skills from talented local secondary school children. Larry was produced to support an environmental education program at the Lake. The book features a homeless Larry, looking for friends and a permanent home in the wild. Now Vision Australia children can share his travels, via the braille edition. Close up of Larry in Braille. Larry was produced in 2014 by the RCFH. He still flies at Blackburn Lake Sanctuary and in schools throughout Whitehorse. Now the vision impaired children will also enjoy him. The book of Larry is used in conjunction with hand puppets. The first Vision Australia group of pre-school children enjoyed Larry and other delights at BLS this month.
A group of Rotarians, partners, honorary members and friends spent a happy couple of hours touring this local facility, listening to a 45 min jazz concert and finishing with lunch. Aren't we lucky to have the Australian museum on our doorstop in Vermont.
PRESIDENTIAL CHANGEOVER NIGHT
Gary, Peter and Roger Davis- Newly awarded Paul Harris Fellows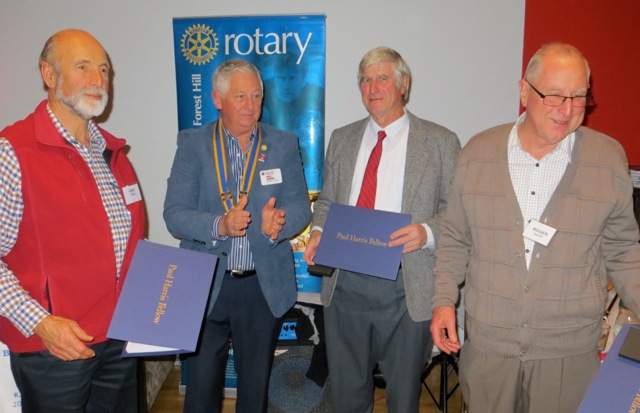 Annual Rotary Conference in Shepparton 2016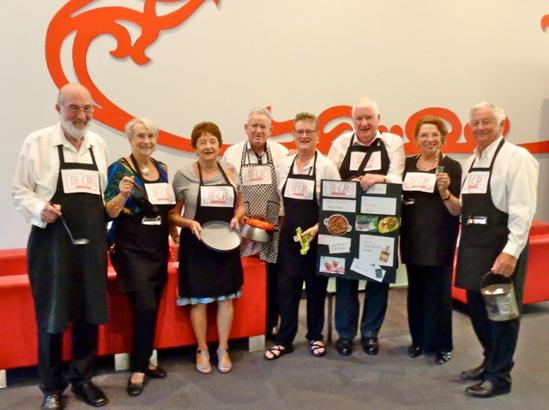 BIKE RIDE to CONFERENCE
(raising money for Australian Health Research)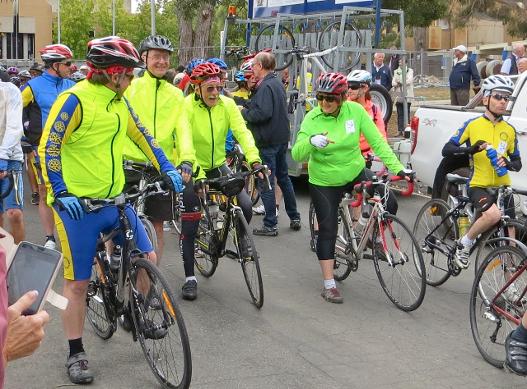 Over 60 of us rode 651kms over 6 days of riding. Starting in Ballarat we headed for Ararat, then had further nights in Horsham, Hamilton, Warrnambool and Colac before returning to Ballarat.. The reason we ride is to raise money for Australian Rotary Health. We have almost made the ONE MILLION DOLLAR mark since starting these rides over 25 years ago.