The Object of Rotary
The object of Rotary is to encourage and foster the ideal of service as a basis of worthy enterprise and, in particular, to encourage and foster:
The development of acquaintance as an opportunity for service;


High ethical standards in business and professions; the recognition of worthiness of all useful occupations; and the dignifying by each Rotarian of his occupation as an opportunity to serve society;


The application of the ideal of service by every Rotarian to his personal, business, and community life;


The advancement of international understanding, goodwill, and peace through a world fellowship of business and professional persons united in the ideal of service.
What Rotary Isn't
Rotary isn't a religious, political, or nationalistic organisation. It does not interfere with the men and women members' religious, political, or other beliefs. Rotary isn't some kind of secret society. There are no secret handshakes or the like. Rotary isn't "an old boy's club" dominated by an established group of cronies. It is intentionally structured to offer leadership opportunities to all its female and male members.
Rotary clubs are a bunch of like-minded people united in their desire to make a difference in their community and the world. Members are expected to make a contribution to the life of the club, to the extent that they are able. Rotary offers plenty of scope for members' initiatives and for the promotion of their concerns for the community at large.
Rotary Ethics and The Four Way Test
Adopted by Rotary in 1943, The Four-Way Test has been translated into more than a hundred languages and published in thousands of ways. In the things we think, say or do in our business and private lives, we ask ourselves
1. Is it the truth?

2. Is it fair to all concerned?

3. Will it build goodwill and better friendships?

4. Will it be beneficial to all concerned?
This *Four-Way Test" has captured the imaginations of generations of Rotarians as a simple test to help ensure we are living up to the standard established by the Second Object of Rotary. The Objects of Rotary are the guiding principles of the Rotary movement, and how we as Rotarians try to live our lives.
The second Object of Rotary is to encourage and foster high ethical standards in business and professions; the recognition of worthiness of all useful occupations; and the dignifying by each Rotarian of his/her occupation as an opportunity to serve society.
How Rotary is Organised
Rotary is organised at Club, District, Zone and International levels to conduct its program of service. Each club enjoys considerable autonomy within the framework of the constitution and bylaws of Rotary International. Over 98% of the funds raised by Rotary are used to support projects run by Rotary and many other charitable groups. Most Districts and Clubs have no paid employees.
Rotary Districts are each led by a District Governor who is an officer of Rotary International and represents the RI Board of Directors in the field. While the Rotary International President is the highest officer of RI, the chief administrative officer of RI is the General Secretary, who heads a staff of about 600 persons working at the international headquarters in the Chicago suburb of Evanston, Illinois, USA, or in one of seven international offices around the world.
On 1 July each year, all officers change at each Club and District level, and also at Rotary International (except where certain Board appointments are made for two years). This cycles responsibility and opportunity for leadership and challenge to many members of the Club, and encourages all members to actively participate in the life of the Club.
The Member Classification System
Rotary uses a classification system to establish and maintain a vibrant cross-section or representation of the community's business, vocational, and professional interests among club members. Paul Harris, the founder of Rotary in 1905, established the process of choosing cross-representation of each business, profession, and institution within a community without disproportional representation from one or more professions.
Some examples of classifications include: high schools, universities, eye surgery, banking, pharmaceutical retailing, petroleum-distribution, and insurance. Individual clubs may determine what classifications actually represent a vibrant cross-section of their community. It effectively brings together into Rotary fellowship many people who wouldn't otherwise have contact with one another. The membership can then really come to represent the business and professional life of the community. They bring to the table conversations, and to their committee work, unique perspectives that are a major strength of what constitutes Rotary.
The classification system gives Rotarians the dual responsibility of representing their vocation within the club and of exemplifying the ideals of Rotary within the workplace.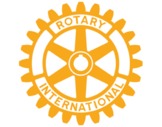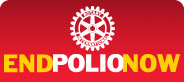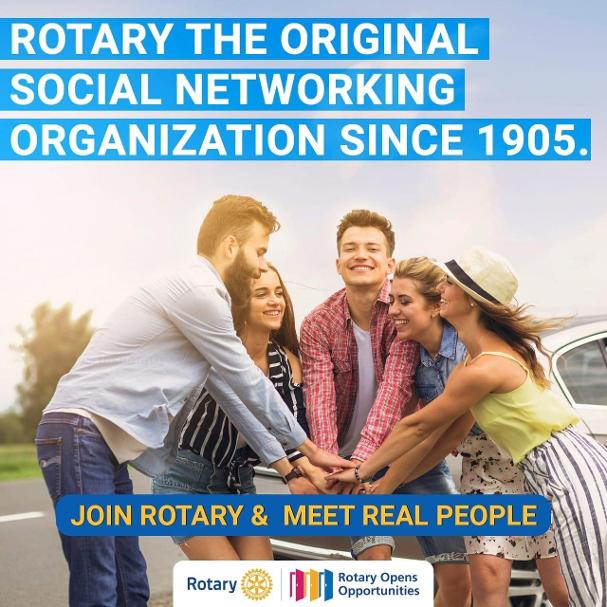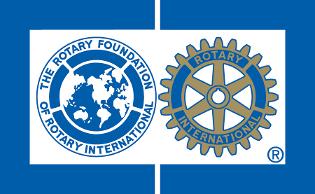 The Rotary Foundation is a not-for-profit corporation that advances world understanding, goodwill and peace through the improvement of health, the support of education and the alleviation of poverty. It is supported solely by voluntary contributions from Rotarians and friends of the Foundation who share its vision of a better world.
Each year the Foundation provides grants in various forms for a number of humanitarian projects at home and abroad. Foundation projects have included nurturing generations of Peace Fellows, fighting polio, connecting homes to a water supply, blood collection for transfusion, feeding children, supporting land mine victims, and many others, for example:
Peace Fellows: Successful young adult candidates rise through the interview process from the Club level, to District level and finally to Rotary International. Then they travel to a country where host Rotarians help them learn how to create peace and about the life and customs of their host nation.

Granting Wishes: The Foundation can provide cash grants to fix problems in communities around the world.

Health, Hunger and Humanity Grants: Fund long-term, grassroots development projects too large for a single Club or District.

Matching Grants: Match contributions from Clubs and Districts for projects involving at least two countries.

District Simplified Grants: Allow Rotary Districts to support short-term humanitarian projects that benefit a community.


Individual Grants: Subsidise travel of individuals or small groups for international humanitarian service for up to 60 days.