Youth Achievement Awards 2023
Primary School Unsung Heroes by Glenys Grant
Unsung heroes from 12 local primary school were recently acknowledged at the Rotary Club of Forest Hill Youth Achievement Awards 2022-23. This unique club program has continued for more than 42 years and in that time 384 students have been recognised. That is quite a record! Students receive awards, acclamation, certificates, vouchers and a video to commemorate the occasion. These were given out at each school's end of year presentation. After Covid19's impact how wonderful all 12 primary schools not only elected to participate but were overjoyed that the Rotary Club of Forest Hill was still making these awards available. Each year, for 42 years, teachers have been enthusiastically involved, specifically selecting a Grade 6 quiet achiever with the aim of recognising a student who may not normally be widely acknowledged for their contributions. The criteria is that the student doesn't have to be the best scholar or sportsperson but instead has made a worthwhile contribution to other students, the school, community and/ or the environment. Citations show these youngsters to be truly inspirational, giving such promise for the future. The award is also aimed at encouraging these quieter students to higher successes - and it works! These youngsters often shine again in later years, as this award gives them the confidence and incentive to continue to achieve. The last three years have been such difficult ones for students and this is a way to acknowledge their resilience and efforts. The Rotary Club of Forest Hill 2022-23 primary school Youth Achievement Award winners are: Blackburn Lake - Olivia Allen, Burwood Heights- Josephine Mander, Livingstone - Amelie Nassiokas, Mt. Pleasant Road - Sophie Rosthorn, Orchard Grove - Maya Furze, Parkmore - Audrey Tattersfield, Rangeview- Elsa Castellino, St. Timothy's - Oscar Rodwell, Vermont South Special - Ashton Menzie, Vermont- Vyomi Patel, Weeden Heights - Amolmangok Amol and Whitehorse - Ella Dunshea.
Livingstone Primary School young achiever Amelie Nassiokas being presented with her award by the President of Rotary Club of Forest Hill, Bill Marsh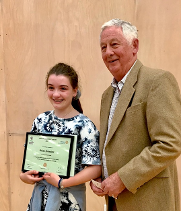 Young achiever Elsa Castellino being congratulated on her award by Rangeview school principal Marika Ferguson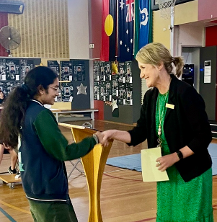 Youth Service
Our programs have been developed and chosen to provide enriching opportunities for young people in the community, from preschoolers to young adults.
In 2020/21
Encourage safer driving habits by supporting RYDA (Rotary Youth Driver Awareness) programmes
12 students were involved in our club's Primary School's Youth Achievement Awards (YAA)
In 2019/20
14 students to participate in the Primary Schools Speech Contest (PSSC) for yr 5&6 students
1 student in the 3 day Rotary Youth Programme of Enrichment (RYPEN) for 14-17yr olds
12 students in our club's Youth Achievement Awards (YAA)
1 students for the National Youth Science Forum (NYSF) for yr 11 students
2 students for the ConocoPhillips Science Experience, a 2/3 day programme for yr 9 students
5 students for the club's Youth Citizenship Awards for year 8 students
4 students for the Model United Nations Assembly (MUNA) a weekend of debating for yr 11 students
2 students for the Model United Nations Assembly (MUNA) national contest in Canberra
We have partnered with local primary and secondary schools, the Whitehorse Council, Science Institutes and environment groups. Our chosen students have participated in the following (see photos and details below)
Ford Davis Endeavour Awards (see Vocation Service page)
MUNA- Model United Nations Assembly. Designed to help Year 11 students learn more about the UN
NYSF – National Youth Science Forum for Year 11 students. This program helps students who aim for career in Science.
RYPEN – Rotary Youth Program of Enrichment - for Year 9-11. Designed to develop and enrich potential and success
The Science Experience (ConocoPhilips) for Year 9 and 10 students. To encourage interest in science /technology
RYLA – Rotary Youth Leadership Award – for 18-30 years old. An intensive leadership training course
Year 10 Four Way Test – Public Speaking Contest. To promote public speaking skills, organizing and presentation
PSSC- Primary Schools Speech Contest for years 5-6 usually. To develop speaking and presentation skills in 10-12 yr olds
YAA – Primary Schools Youth Achievement Awards. Acknowledging Year 6 students who are local 'unsung heroes'.
Breakfast Club at Forest Hill College
YCA - A Citizenship award we give to secondary school students who have been inspiring in their support to the community
RYDA (Rotary Youth Driver Awareness)
Our Rotary club has been assisting with running Rotary Youth Driver Awareness (RYDA) days at Sandown Greyhound track, Lilydale TAFE and some country venues, for a number of years. Each day requires six Rotary volunteers marshalling around 100/150 year eleven students who are mainly "L" platers from a Secondary College, so they can participate in six sessions educating them to be more aware of how to drive safely on our roads. Over 640,000 students Australia wide have participated in the program run by Road Safety Education Limited. Each of the participating Victorian Rotary clubs have been awarded a "Champion" award (pictured) with Forest Hill being one. The award recognises "the amazing contribution that is made by Rotary and celebrates their ongoing commitment to RYDA."
Our club urges all Victorian Secondary Colleges to contact the Victorian Senior Program Coordinator Catherine Smith at vic@rse.org.au and book in to participate.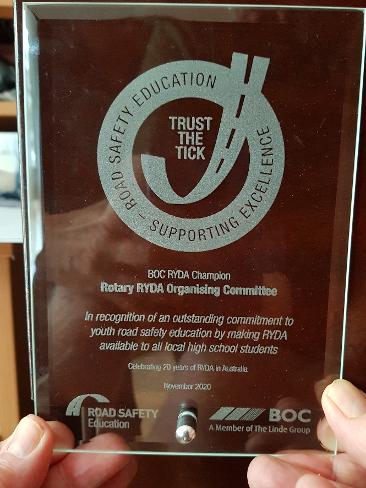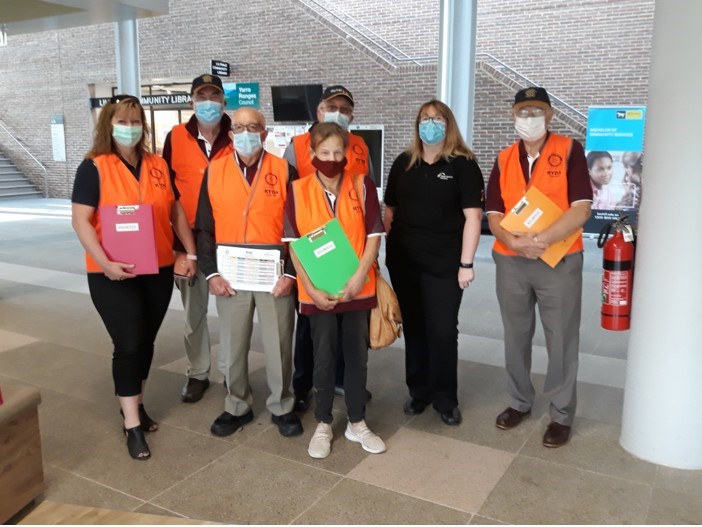 RYDA Thursday 25th Feb 2021
The Rotary Club of Forest Hill (Bob L, John B, Sue B, and Ron B) together with RC of Maroondah (Andrew B, and Wendy ) were the volunteers who helped Catherine & Misha from Rotary Youth Driver Awareness conduct a successful day at the Box Hill Institute Lilydale campus. There were 105 students from Eltham College and Swinburne Senior Secondary College had 15. As usual there were 6 x 30min presentations but they have really been improved, providing much more impact from the 6 experienced presenters. This RYDA road safety education programme equips young people to stay safe on our roads. By splitting up into groups of 20 for the day, each student gets personal attention. The presentations are
1. Crash Investigators (Four items- Speed, Road User, Vehicle, Road/Roadside) 2. The "I' in Drive (Know yourself, Speaking up, Self control, Thinking social) 3. Mind Matters (Effect of Mind state on an actual crash) 4. Road Choices (Fatigue tips, What to do at a crash scene, Risky drivers) 5 . Driver SOS (Drive so others survive, Be observant) 6. Speed & Stopping (a practical car discussion and driving demonstration) www.rse.org.au/ryda
Youth Achievement Awardees 2022
Primary Schools' Youth Achievement Awards (YAA) 2020-21
With Covid19 impacting on all schools our club was not sure of how many schools would want the extra work of participating in our 2020 Awards. How wonderful that all twelve Primary Schools not only elected to participate but were overjoyed that our club for the 40th year was making them available, so we videoed each presentation onto memory sticks for the school/Awardee. The message we received from all schools was that the teachers wanted their chosen Grade 6 students to again experience being recognised for the wonderful work they do for their school and for their community. The Award winners were -
(click on the students first name to watch their video presentation)
Blackburn Lake Primary Jordan Goldsmith
Burwood Heights Primary Chloe Dam
Livingstone Primary Bella Connell
Mt. Pleasant Road Primary Oliver Steele
Orchard Grove Primary Chantelle Antonello
Parkmore Primary Kian Ezatshoar Sanavi
Rangeview Primary Lily Chivers
St. Timothy's Primary Chloe Rodwell
Vermont South Special School Jake Emery
Vermont Primary Will Tabe
Weeden Heights Primary Andrew Phillips
Whitehorse Primary William Jesse
Chantelle from Orchard Grove Primary School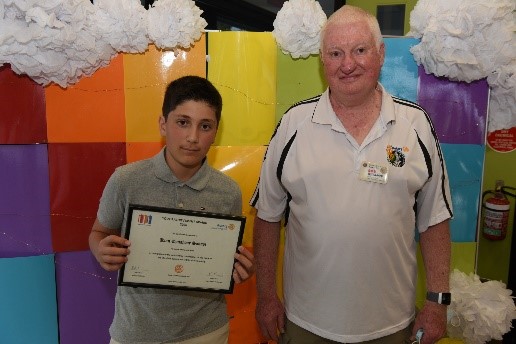 Kian from Parkmore Primary School with Bob Williams from Rotary Forest Hill
Our Rotary Club carries out Local Community projects without any thought of reward. We are a Service Club with the motto Service above Self. However, we are human and love it when we get unsolicited thanks such as shown in the picture from William Jesse of Whitehorse Primary after our latest Youth Achievement Awards presentation.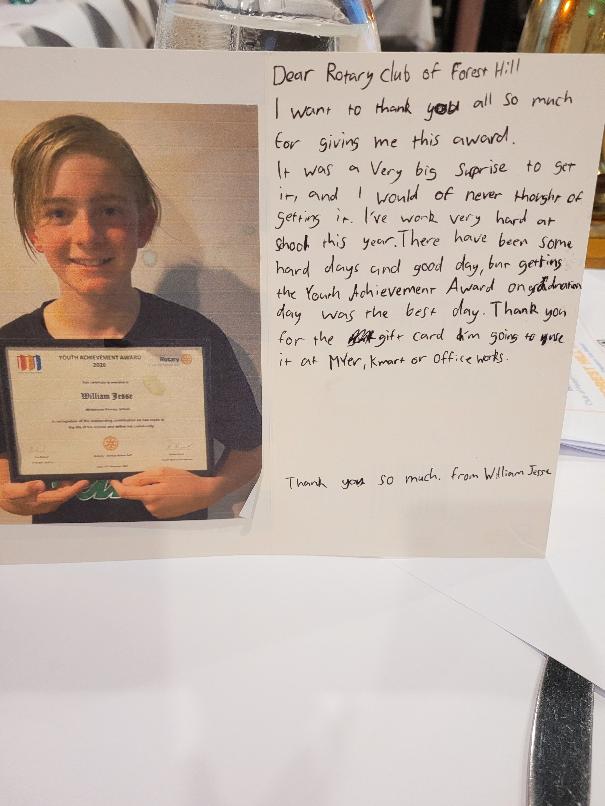 Primary School Speech Contest 2019/20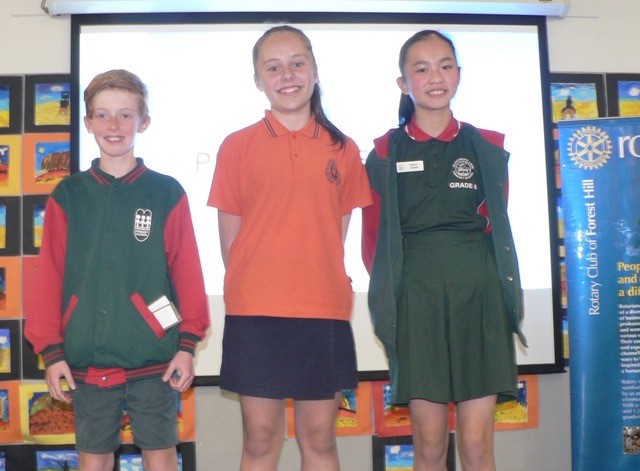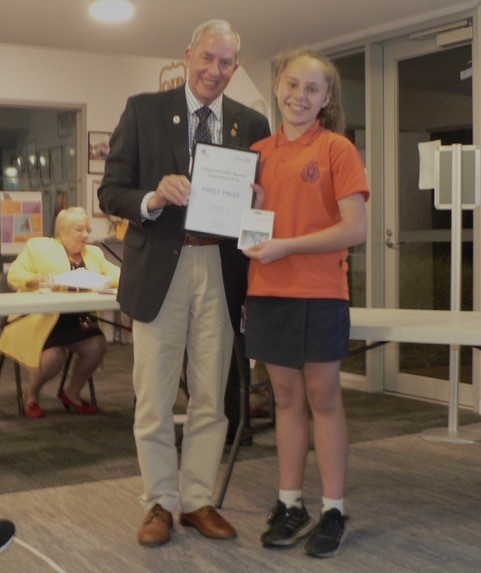 Winner with AG Geoff Logi-Smith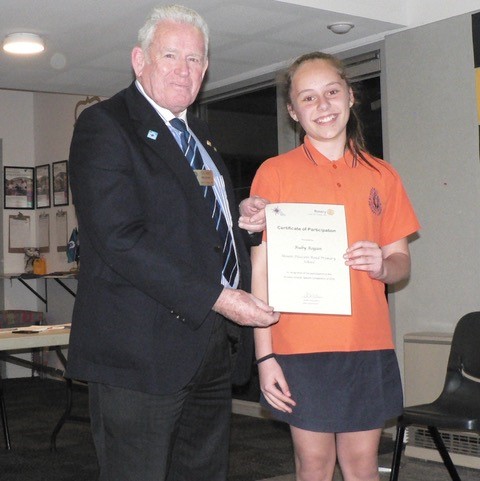 Winner with Pres Stuart Williams
3rd Jack O 1st Ruby R 2nd Cheryl C
Mount Pleasant Primary School won the seventh Primary School Speech Contest our Rotary Club has organised, run on the night by MC Bill Marsh and our Youth Committee. Once again Toastmasters provided the adjudication, a big thank you Marlene Sinclair co-MC, with chief judge Cate, and judges Victoria & Judith . As last year's winner, Mount Pleasant Primary School hosted us with fourteen students from seven local schools. This was our largest gathering to date. The children spoke on a variety of topics for 3 minutes and amazed the audience with their poise, confidence, and preparation - many speaking without notes, and one with a magic lamp.
Ruby R (Mount Pleasant) was the winner with Cheryl C (Blackburn Lake) the runner up and Jack O (Parkmore) 3rd. Topics included • "The most special part of Australia is ... ", "If I ruled the world", and "Someone I admire". The winners respectively received prizes of $50, $40, & $30 vouchers plus a certificate while all others received a Participation certificate. The winner also received a trophy while the school got to display the Perpetual Trophy for a year. This was Mount Pleasant's third win in a row though four schools have won over the seven years.
Presentations were made by our club's Assistant Governor Geoff Logi-Smith assisted by club president Stuart Williams.
We then enjoyed a supper prepared by the Rotarians and partners from Forest Hill Rotary Club.
Forest Hill College Stan Harper GALILEO AWARDS 2019/20
Awardees Joel Rippon, Ryosuke Shibuya and Hayley Booth.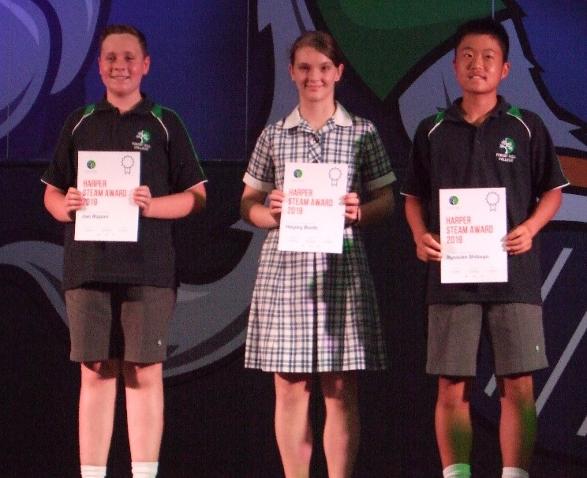 Forest Hill College Ford Davis AWARDS 2019/2020
Lachlan Haines & Madhura Shivalkar receives their awards from Principal David Rogers. Ford Davis was the founder of the Rotary Club of Forest Hill.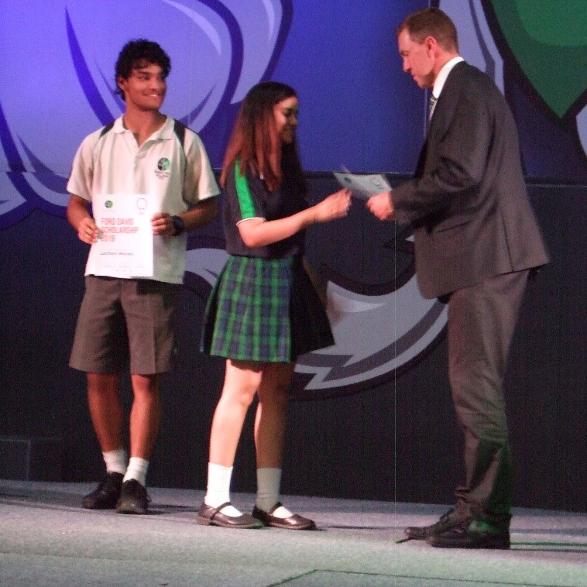 YAA Youth Achievement Awards 2019-20
L-R Martin Hensher speaker Rose Hensher, Pres Stu, DG Shia Smart, AG Geoff Logi-Smith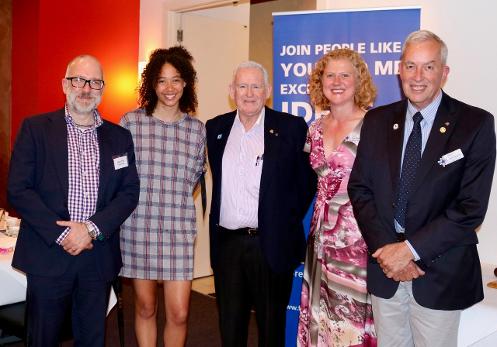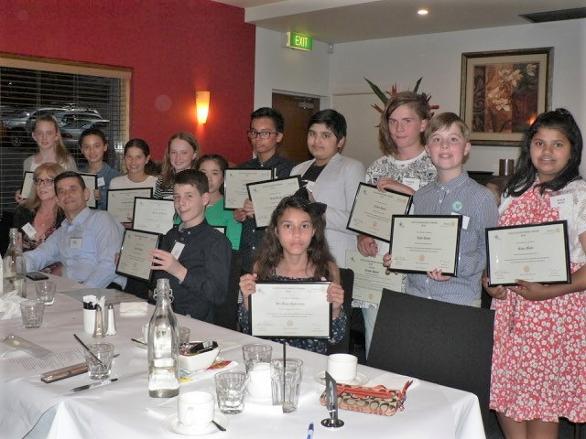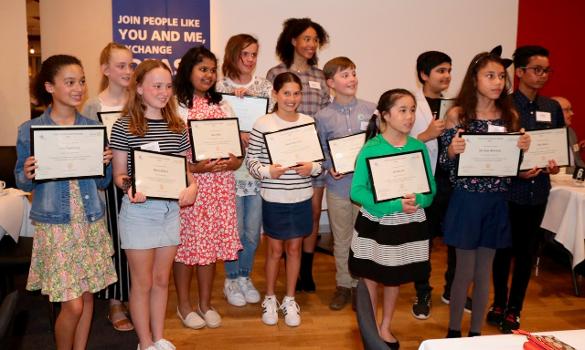 Rose Hensher speaker, MUNA winner and Totenhofer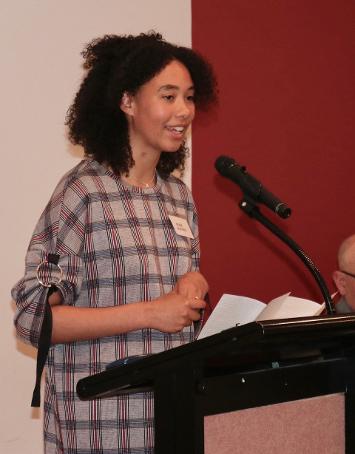 Ford Davis Endeavour Awards (2017/18)
Each year, three students from Box Hill High School receive an award to help and encourage them to further their education. They each receive $1,000 at the start of yr 11 and another $1,000 at the start of yr 12.
This year the awardees were Ashley Beh, Anita Nguyen & Rock Wilkins. Since 2010-11, 21 students have received this award. It is financially supported through the Gysi-Davis Trust in fond memory of Ford Davis, a foundation member of our club paid for by his three son's who attended Box Hill High School. Gary Davis was present at out club meeting on the 27th March to speak to the students and hand out the awards. Gary described the awards as "the red hot go award" encouraging them to make the most of their opportunities. Each student then spoke on how the money would be used.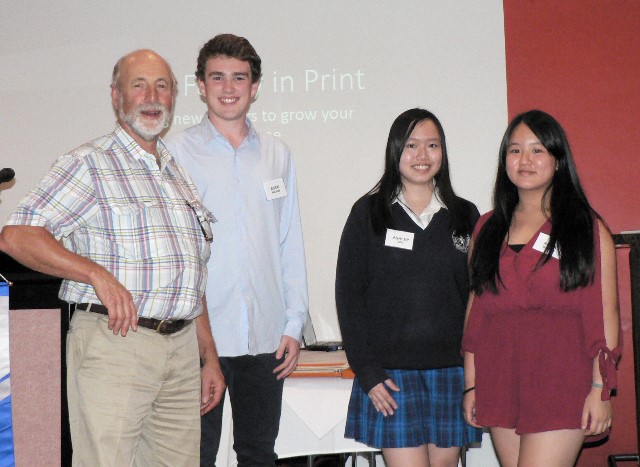 Breakfast Club every Tuesday at Forest Hill College prepared by the Rotary Club of Forest Hill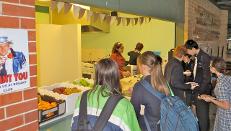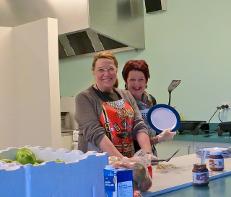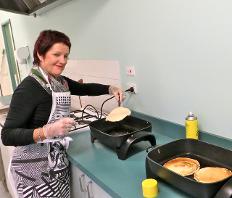 Glenys, Robbie, Ben, and Sonali dishing up a healthy breakfast for students at Forest Hill College.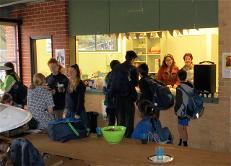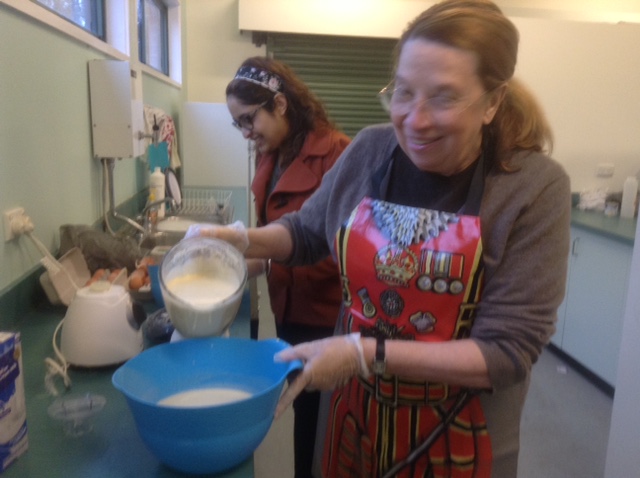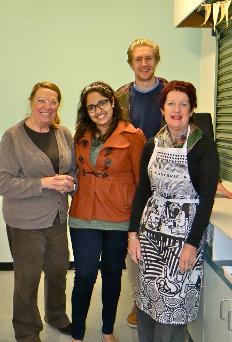 Primary School Speech Contest Final 2018/19

MUNA 2018/19

MUNA National 2018/19

Youth Citizenship Awards 2018/19

National Youth Science Forum 2018/19

Larry the Lorikeet Book Launch 2014
Here is a photo of the 2018/19 DISTRICT 9810 Speech Contest FINAL. Andrew (6th from the right) came 3rd in a very close call. The first three were separated by a very narrow margin.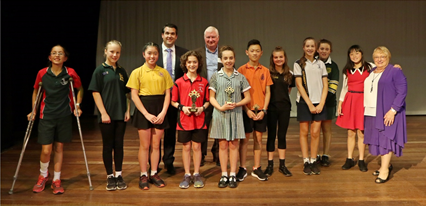 MUNA - MODEL UNITED NATIONS ASSEMBLY 4th & 5th May 2019
For the 21st time since the first MUNA event held in 1999, we were fortunate to be able to hold MUNA in the magnificent Legislative Assembly Chamber of the Victorian Parliament House. We should never underestimate the impact on the students of this elegant historical building, the atmosphere of the place, and the fact that the students are actually sitting and working in the seats occupied by our lawmakers. This year 39 teams took place representing 39 countries in. The Rotary Club of Forest Hill sponsored four year 11 students. Box Hill High School students Rose Hensher and Thomas White, representing Russia won the student vote for best team. They then received the even higher honour of being awarded the Rotary District 9810 Best Overall Team and winning the chance to compete in the Canberra National competition in August. Our second team of Hayley Mason & Ruken Zeyto, Koonung College also did very well representing Bangladesh.
Other teams which won awards were from PLC (North Korea- runners up and best costumes), St Bede's (Pakistan- District Governors Award), Salesian (Thailand-best student resolution).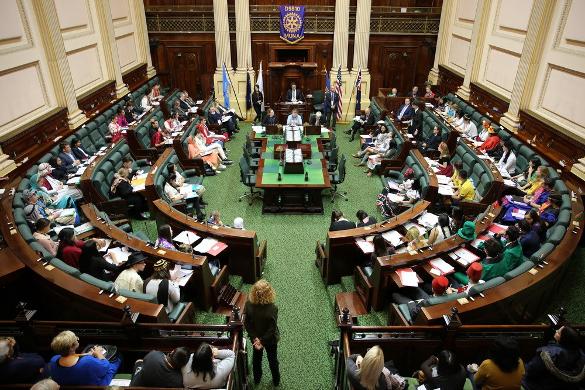 Action in the
Legislative Assembly Chamber of the Victorian Parliament House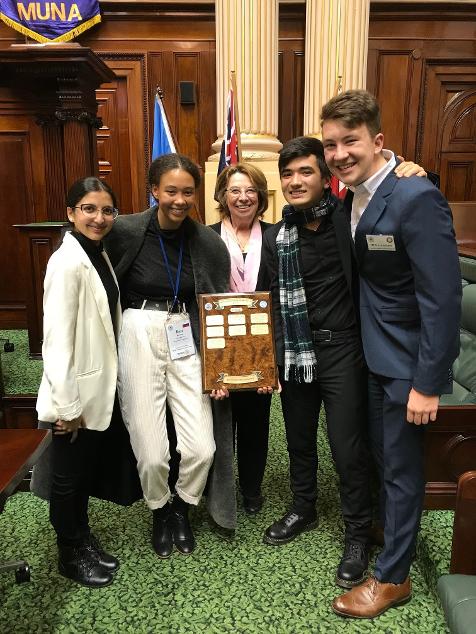 Winning teams 2017/18 and 2018/19 L to R Aashna Shah, Rose Hensher, Thomas White, & Thomas Yakubowski from Box Hill High are congratulated on their victories by Youth chair Glenys Grant. Both teams won two awards -Best Team Contribution as voted by the students and Best Overall Team as voted by the Judges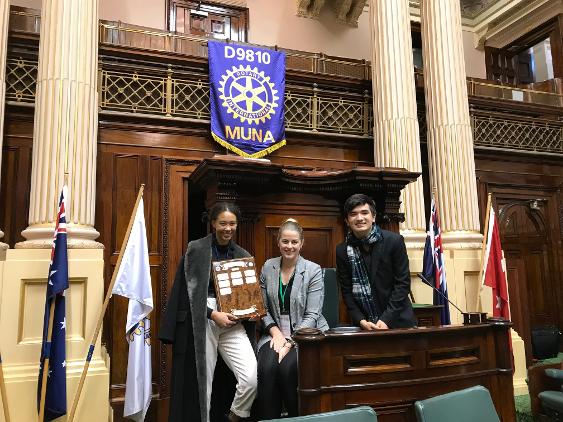 Rose and Thomas with MUNA chair Sarah Byrne at Parliament House
Tom and Aashna and Box Hill High teacher Sara Weyenberg are accompanied by His Excellency the Ambassador, Dr. Ali M. Kraishan, (in the centre) and the Minister Plenipotentiary, Adli Qasem Alkhaledi (to the right). They represented Jordan in the MUNA National Finals in Canberra.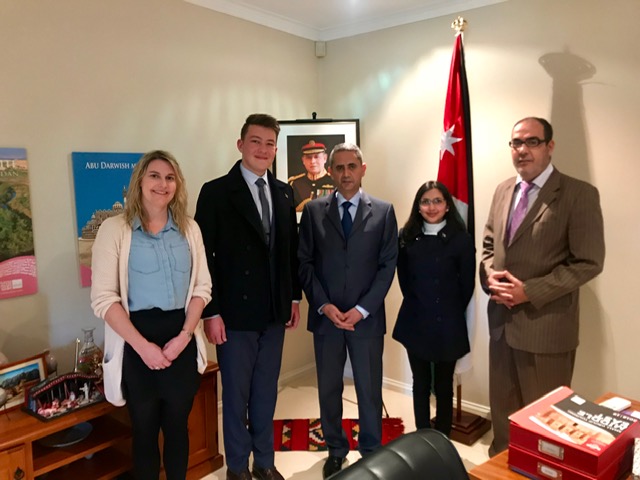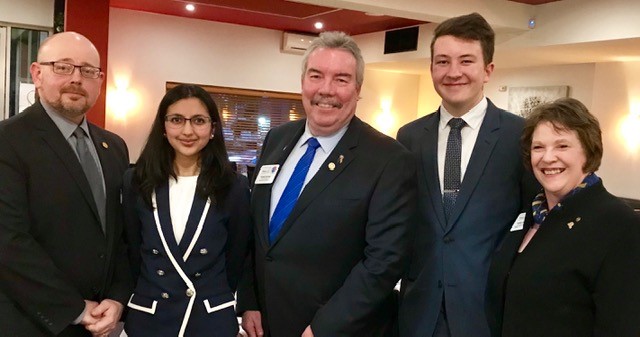 Pres Mike Finke, MUNA Winners 2018/19 and Club Speakers 2019 Thomas Yakubowski and Aashna Shah with DG Russell Gurney and Shelley.
MUNA - MODEL UNITED NATIONS ASSEMBLY Finals in CANBERRA 2019
Thomas White and Rose Hensher, students at Box Hill High School, represented Egypt at the recent National Model United Nations Assembly (MUNA) Competition in Canberra. They had the amazing privilege of meeting the Deputy Head of the Egyptian mission in Australia, Ms. Aliaa Abouelnaga, at the Egyptian Embassy, where they were able to gain some very deep insights into the Egyptian nation and mindset. The Inspiring team were awarded the prestigious Totenhofer Peace Prize, given to the team that most promoted world peace.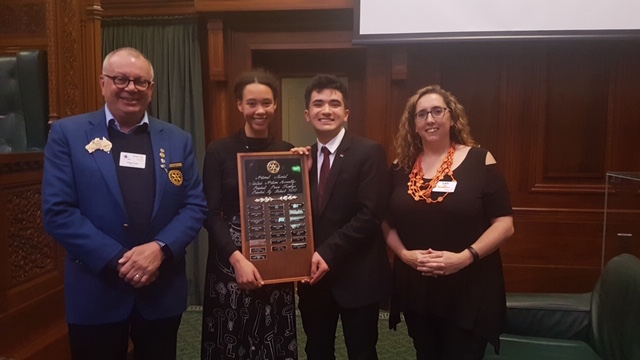 L-R DG 9710 Peter Ford, Rose, Thomas & President of RC Canberra Sunrise, Lain Dare with the Totenhofer Peace Prize Perpetual trophy.(photo above)
Sarah Weyenberg,
Ms. Aliaa Abouelnaga,
Deputy Head of the Egyptian mission in Australia
, with
Thomas and Rose
at the Egyptian Embassy. (photo right hand side)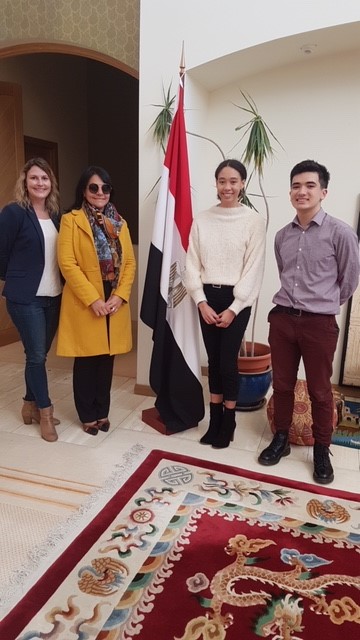 Youth Citizenship Award June 2018/19
Our sixth Youth Citizenship Awards night was held at Bucatini restaurant on 3rd June, 2019 (see below). Over
40 members, partners, parents, grandparents, teachers, siblings and friends attended.
President Mike
then
explained the Youth Citizenship Awards, which is an award for unsung heroes in the school community. It is unique to our Club and aimed specifically at Year 8 students to help fill a perceived small gap in the wonderful and very comprehensive District Youth program. Certificate giving then proceeded, with each school's staff member reading out a citation on the Awardee explaining why the school had chosen them. This was a wonderful moment and brought tears to the eyes of some listeners. The Awardee was then presented with a framed certificate from DGE Russell Gurney, a laminated citation from AG Graeme Aspinall, and a $100 gift voucher. Award winners were:
- Blackburn High School's James
- Box Hill High School's Suhani
- Forest Hill College's Alice
- Kingswood College's Brendan

- Vermont Secondary College's
Kaden
Speaker Issy Jacques
told us about the fantastic residential Rotary program NYSF (National Youth Science Forum) that she attended, and how it impacted and focused her thinking and way of life.
Kaden, Brendan, Issy, Suhani, James, and Alice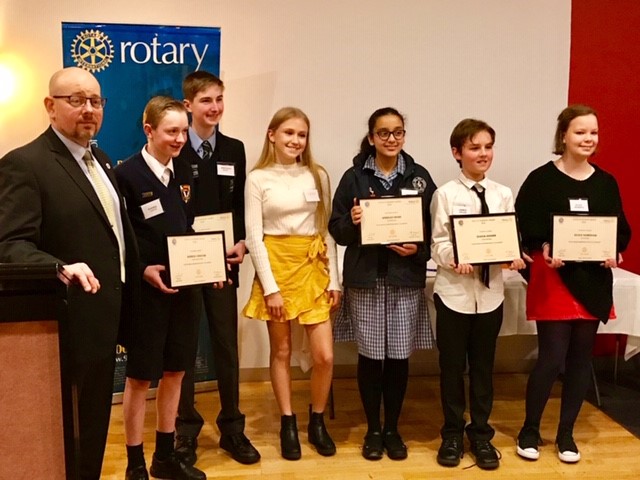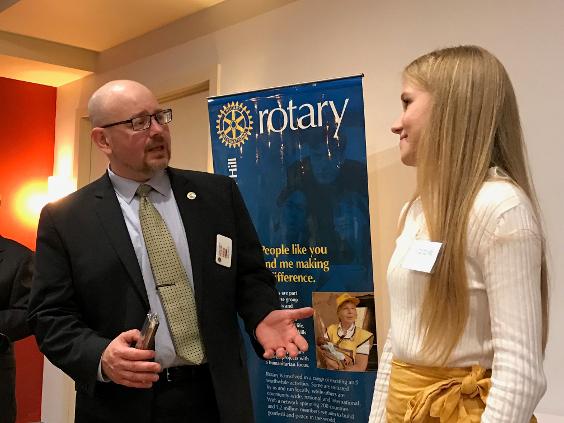 National Youth Science Forum 2018/19
The NYSF organised by Rotary gives a few select top science students the opportunity to follow their dream of spending two weeks at a science workshop at the Australian National University, Canberra. Issy Jaques who was sponsored by our club was guest speaker at our Youth Citizenship Awards night.
Rotary Youth Programme of Enrichment (RYPEN)
Hannah Bailey, Kingswood College, was chosen to attend the 2 1/2 day 2018/19 programme held at the Mount Evelyn Camp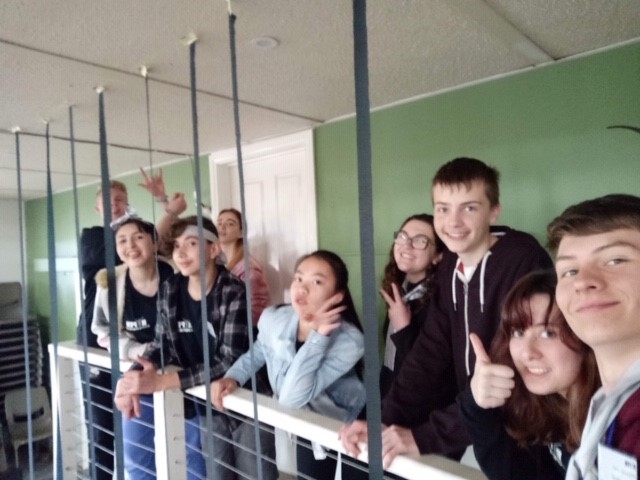 Rotary Youth Leadership Award (RYLA) 2018/19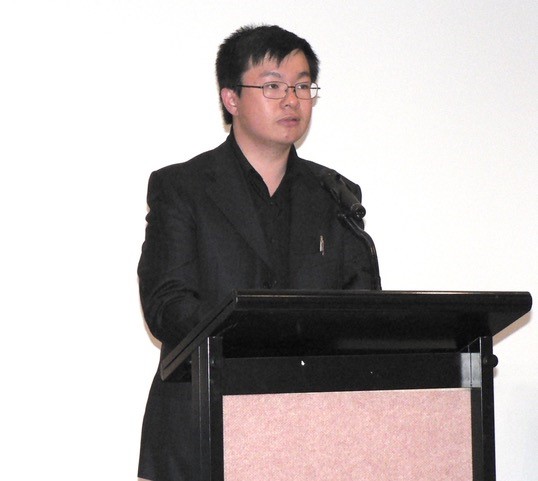 Louis Xia a Monash University student, benefited from this intensive leadership training course
Larry the Lorikeet Book Launch
Larry the Lorikeet officially flew into the hearts and minds of Victorian young children in August. Larry is the central character in a colourfully illustrated and cleverly written book designed to increase awareness of protecting the environment. Symbolically, the tale traces the flight around Melbourne's iconic Blackburn Lake, preserve of a lorikeet who is forced to flee his home in the face of developer's bulldozers which have destroyed his habitat.
The project was initiated, project managed and financed by the Rotary Club of Forest Hill, supported by Whitehorse City council. Forest Hill College led by Marianne McEwen, ran an art competition to decide the book illustrator. This was won by 14 year old student Zena who produced the book artwork. The story line and text came from Box Hill College student Adam with help from Liam and Brad.
The book was launched at Nunawading Library by President Bill Marsh from the Rotary Club of Forest Hill in the presence of Mayor Cr Sharon Ellis, other councilors and State dignitories. An audience of over 100 people listened to Lucy Menzies, The Lake Education Officer, read the book. Rotary distributed the book free to all local schools and libraries and Blackburn Lake where it will be used in the eduction program for pre schoolers. We encourage you all to read the book, and take your families to Blackburn Lake.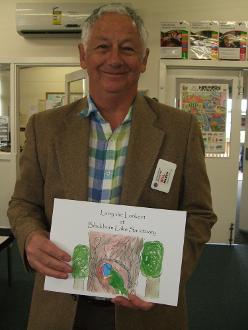 President Bill Marsh presenting a copy
of the Larry the Lorikeet book to
Burwood Heights Primary School for
their library.