Ford Davis Endeavour secondary school Scholarships
Box Hill Institute Apprentice Awards
Pride of Workmanship Award
Ford Davis Endeavour Awards Programme
As a result of the generosity of the Gysi and Davis families, in 2010-2011, the Rotary Club of Forest Hill created these Awards to recognise the achievements of a great Rotarian, the late Ford Davis. Past District Governor Ford was the founder of the club. He was the epitome of Rotary knowledge, wisdom and advice during his forty years of Rotary "Service above Self". Ford was our motivator, our friend, our counsellor and he believed success in Rotary came from Service and it came from Fellowship. The Ford Davis Endeavour Awards focus on Ford's interest in encouraging young people to do their best regardless of their circumstances. The three students from Box Hill High School all plan to head off in different directions. Charan is heavily into engineering activities and hopes to study mechatronics, Sienna plans a career in wild life conservation or behind the scenes in the film industry while Ben would like to be an accountant. Jessica Shepherd, Senior Support Coordinator at the school spoke highly of the quality of the students, the teachers and the facilities and was enthusiastic about the school environment.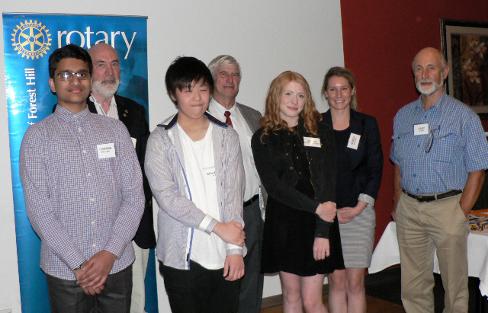 Charan, Ben, & Sienna with Jessica Shepherd meeting Gary and Peter Davis
Apprentice Awards July 2019
Box Hill Institute apprentices have benefited regularly from awards from our club to students who demonstrate an excellent work ethic and who will benefit from receiving a donation to purchase tools of the trade.
Three areas are covered- Automotive, Refrigeration-Electrical Engineering and Building-Furniture.
In 2019, awards went to Jarrah Pitt (automotive), Fernande Asciano (electrical) and Jack Skinner (carpentry/woodwork)
President Stuart spoke briefly about the man behind the Graham Taylor award and Graham's commitment to development of young peoples' life skills and work commitment.
Roger Davis then came forward to present the Davis encouragement awards and outlined his father's commitment to encouragement for youth to achieve to the best of their ability in all that they do. The Davis brothers do so much for our club in memory of their father, and founding father of our Rotary Club.
Indi Hangan who was an apprentice awardee 8 years ago spoke briefly about the encouragement he got from the award and how he was persuaded to do the best he could do. He now runs his own successful construction business employing 47 people including 22 apprentices. He gave us an update on his Tiny Homes Australia business. Indi is a success story Ford Davis would have be thrilled to hear.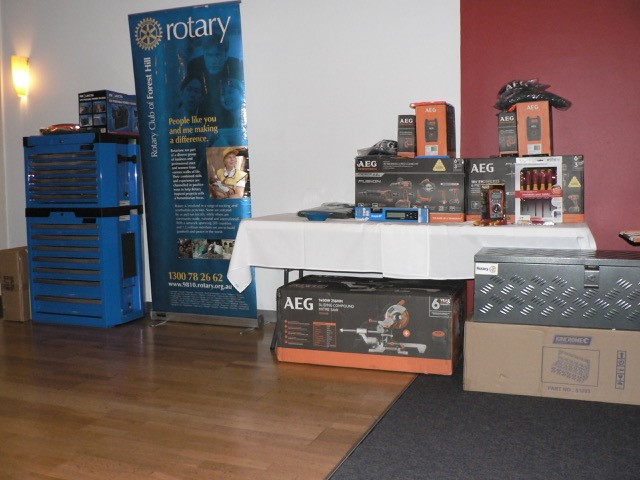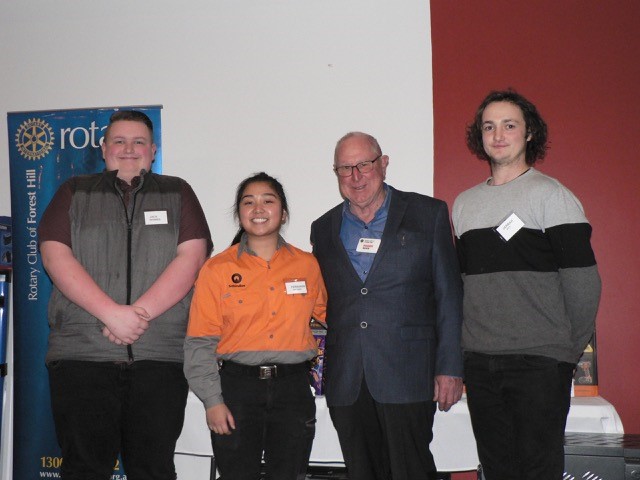 Jack, Fernande, Roger Davis & Jarrah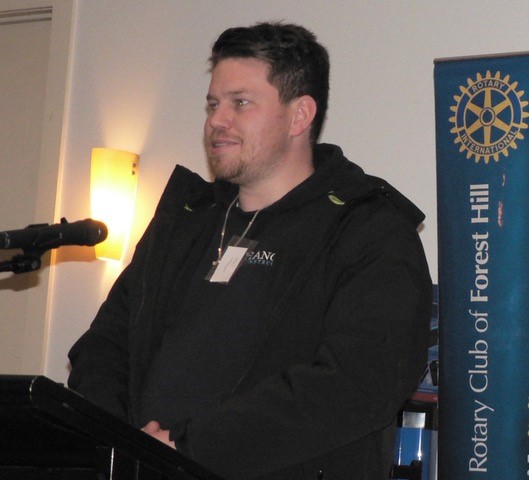 Indi Hangan admin@hangan.com.au
Future Focus
The Future Focus Program is a joint program between the Rotaract Clubs and the Rotary Clubs of District 9810.
An experienced member of our club is linked with a local Rotaracter to learn more about each others profession, to network, and to build relationships which hopefully lead to enhanced career prospects for the young person.
Pride of Workmanship Awards
Local businesses are approached to nominate an employee for a Pride of Workmanship Award. This year a hospitality worker from Bucatini restaurant won. Winners in earlier years have come from BMW Doncaster, Nunawading Toyota and Whitehorse Accident Centre.